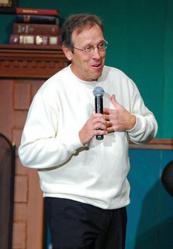 Jeff Allen is one of the funniest, most inspirational, comedians working today
Joplin, MO (PRWEB) July 18, 2011
Comedian Jeff Allen joins Yakov Smirnoff to help Rebuild Joplin. Stand Up for Joplin will be performed in Joplin on Tuesday, July 19 at 7 pm at Taylor Performing Arts Center, a state-of-the-art auditorium on the campus of Missouri Southern State University, 3950 E Newman Road, Joplin, Mo.
Jeff Allen is the world's funniest, most inspirational Christian Comedian. Time and again, Jeff Allen has proved no one else can do what he can do - making people laugh as hard as humanly possible with clean, smart and funny talent and stage presence. His "Happy Wife, Happy Life" message of a marriage gone wrong and redeemed has given laughter and encouragement to millions of adults and families. Jeff's comedy drives home the humor in everyday family life and the joy derived from a healthy marriage and transformed life.
Able to perform for any audience in any venue, Jeff has performed on every US cable comedy show, in Las Vegas, for corporate engagements and in churches all over the country. Film/Video credits include: "Happy Wife, Happy Life", "The Apostles of Comedy," and "Thou Shalt Laugh." Jeff has also toured the country doing: Jeff Allen and Friends: Funny People of Faith, Apostles of Comedy, Bill Gaither's Homecoming, Praise Gathering and Gaitherfest. Jeff is also a columnist for the magazine Living with Teenagers, Homecoming and Homelife magazine. He can also be heard on XM Radio, Jones Radio Network, and Focus on the Family.
For more information on Comedian Jeff Allen email contact The Grable Group at 615-283 0039.
###