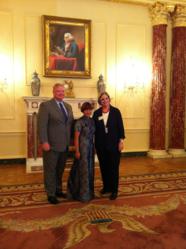 "McGrath Real Estate is all about preparing FSO Families and representing their real estate needs when they are heading overseas, but it is also an honor to give back to the youth that are the next generation of our countries thinkers." - Tommy Chambers
Washington, DC (PRWEB) July 19, 2011
Northern Virginia's McGrath Real Estate invests and sponsors the annual Foreign Service Youth Foundation's annual Essay Contest each year with an award ceremony that took place on Friday, July 15th, 2011.
McGrath Real Estate broker Jim McGrath and agent Tommy Chambers dedicated their time to be judges on the panel of the FSYF Essay Contest. There were a total of five winners who earn generous cash prizes for each winner that was made possible by McGrath Real Estate.
The annual FSYF Essay Contest challenges U.S. Foreign Service youth to answer a topic question in 1,000 words or fewer. This contest showcases the intelligence and impact of today's youth on the world. The essay is for U.S. Foreign Service youth living here and abroad to answer a topic question in 1,000 words or fewer. The 2011 topic question is, "As a Youth Ambassador choose one issue/problem you would focus on for improving the lives of youth in the current country you live in. What would your focus issue be and how would you convince others that this is an important issue to tackle and prioritize, given there are so many problems/issues that need attention?"
The awards ceremony for the winners of the Foreign Service Youth Foundation's annual Essay Contest was on Friday the 15th of July. The winners from the high school category were Chungdhak Lhamo Sherpa who spent most of her life growing up in a village in Tibet and Castilleja Kuzis who aims to travel the world and pursue a degree in arts or business. The winners in the middle school division were Andriy Etcheverry who is currently posted to St. Petersburg, Russia. Anna Bailey won second and is currently posted to Riga, Latvia. Olivia Mozdzierz also won second and currently posted to La Paz, Bolivia.
About McGrath Real Estate Services:
McGrath Real Estate Services has served the Northern Virginia region since 1976 as an expert in property management and real estate sales. There has been a concerted effort on the part of on the McGrath Real Estate team to combat the consistent poor news coming from the real estate market. McGrath landed a successful blow to the shaky Northern Virginia housing market providing a feeling of hope to future home sellers. For more information please visit http://www.McGrathRealEstate.com.
###