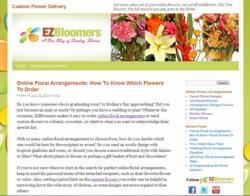 "A flower blog helps communicate our company's love for flowers and deepen our brand's connection with customers"
Indialantic, FL (PRWEB) July 19, 2011
EZBloomers.com President Kimba Vasquez wanted to provide additional information for not only their customers, but also the florists they work with. Kimba says, "Creating the blog is a way to make the website more than just a place to buy flowers. It's a way to interact with customers and florists and hopefully provide content that they find informative, useful, and even funny," referring to one post entitled, "A Humorous look at The Floral Industry through the Eyes of a Florist" discussing real-life wacky events that florists have encountered while dealing with customers and their sometimes 'unique' situations.
The company is willing to write about anything and everything related to flowers. Recent posts include a unique look at the floral industry, floral arrangement ideas for the 4th of July, how to plant fall flowers, and a tutorial on how to set up a florist-to-florist network.
"EZBloomers.com chose to develop a blog in order to enhance the overall experience customers have when they come to our website to buy custom floral arrangements online," says Vasquez. "A flower blog helps communicate our company's love for flowers and deepen our brand's connection with customers as well as other florists in the industry. The more interesting content we can provide, the more enjoyable our site will become to visitors. Since the blog is updated every week, we hope customers find it worth reading on a continual basis." Vasquez hopes the blog will become a gathering place for readers passionate about flowers and sees the blog as a way to differentiate EZBloomers.com from the competition, demonstrate their expertise, and gain mindshare with the consumer.
EZBloomers.com came from a simple idea to provide a new way of sending flowers. Online floral delivery giants often charge a $15 service fee when placing an order through their company. By removing the 'middlemen' EZBloomers.com can help customers save money on their order because the full amount goes directly to the florist. Also, EZBloomers.com keeps the process transparent. Meaning, they disclose to their customers who their florist is as well as telling the florist who their customers are. Unlike other models, this way of doing business is truly unique as well as cost-efficient.
Knowing it faces stiff competition from the well-known flower companies, EZBloomers.com continually tries to improve the experience customers have when they buy flowers online. The flowers come from florists around United States local to the delivery spot and are guaranteed to provide the highest quality flowers. They feature both single variety flowers, as well as custom flower arrangements – all at affordable prices. To view their new blog, please visit
http://www.customflowerdelivery.com/.
About EZBloomers.com: One of the leading online resources working to link top local florists with consumers, EZBloomers.com (http://www.ezbloomers.com/) offers custom floral arrangements without the high-priced service fees that have monopolized the online floral industry. No service fees allow the total amount to go towards what their customers order, allowing for a better quality product and ultimately the best value.
###