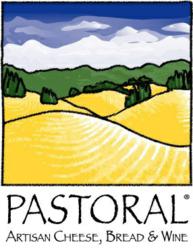 Chicago, IL (PRWEB) July 19, 2011
Pastoral Artisan Cheese, Bread & Wine has expanded its menu to include new sandwiches available at all three store locations, five new signature Picnics for Two, plus small batch wines and artisan beers selected especially for summer. Pastoral will also continue to offer picnic options that serve one, cheese and charcuterie plates-to-go, plus a selection of handcrafted side salads, artisan sodas, locally made sweets, confections and accompaniments which can all be enjoyed on-the-go or at Pastoral's al fresco dining patios open throughout the summer.
"We're offering something for everyone and all occasions this summer, whether its Pastoral's new Picnics for Two designed for every palate and easy transport, our signature artisan sandwiches and salads or a custom, personalized picnic thoughtfully prepared by our knowledgeable and helpful team," said Greg O'Neill, co-founder and co-proprietor of Pastoral. "As we grow and expand our offerings to appeal to a wide range of customers and events, we stay focused on our commitment to give customers the best small batch and specialty products available from exceptional culinary producers near and far."
Pastoral's new sandwich additions include the Quack Attack, featuring herbed duck confit, Manchego cheese, membrillo, piparras and cucumber on a signature baguette ($8.66); The Mediterranean Turkey with roasted local turkey from Michigan Turkey Producers Co-op, basil-fennel pesto, white bean puree, red onion and oven-roasted tomatoes on a signature baguette ($7.52); and The Nutty Fig including locally made fig and black tea preserves from Quince & Apple in Wisconsin, goat cheese, green apples and Pastoral's house-made almond butter on cracked wheat bread ($5.92). These new sandwiches are additions to Pastoral's current sandwich menu, including the Build-Your-Own, with prices ranging from $5.21 - $9.98, plus tax. A wide variety of gourmet salads are also available, and range from $3.40 for a side salad to $9.52 plus tax. All three shops will also continue to offer cheese and charcuterie plates-to-go, including a single serving trio of artisanal cheeses or meats paired with artisan bread and seasonal accompaniments. These are available for pre-order (thirty minutes in advance) or in Pastoral's grab-and-go cases, as available, and start at $9.07 plus tax.
Most sandwiches are offered on freshly baked, organic artisan bread from award-winning baker, Jory Downer of Bennison's Bakery, who provides more than ten different bread varieties for Pastoral along with an exclusive, signature baguette. Pastoral also prepares sandwich platters for office events and parties with an assortment of best-selling sandwiches, cut in thirds and garnished with olives and cornichons, served on Pastoral's signature wooden tray. Sandwich platters start at $45.30, plus tax and delivery if requested, and are available for groups of six or more. Pastoral also offers box lunches, gourmet salads for groups of six to 12, premium picnics for six and catering including a new selection of antipasti, tapas and other artisanal party platters.
Pastoral has also introduced five NEW Picnics for Two including the Fresh From the Farm (a celebration of small American farmers including LaQuercia's Prosciutto Piccante and Prairie Breeze Cheddar, both from Iowa, fresh chevre from Illinois' Prairie Fruits Farm, Ames Honey from Minnesota, Dante from Wisconsin Sheep Dairy Co-Op, pickled ginger carrots from Sourpuss Pickles in New York, house-roasted spiced nuts, fresh local seasonal fruit and baguette); the Summer's Brew (a beer-focused picnic featuring Gossamer and Daisy Cutter locally brewed ales from Half Acre Brewery, three cheeses including Bossa from Missouri, a Swiss Emmentaller and Tulum cheddar from Wisconsin, plus a Salametti from Molinari in San Francisco, Sicilian spiced olives and baguette); the Sweet and Savory (cheeses including a young gouda from Frisian Farms in Iowa, fresh chevre from Illinois' Prairie Fruits Farm, Blue D'Auvergne from France, plus orange marmalade with lemons from Wisconsin's Quince & Apple, toffee from Sweet Margy's in Chicago, Spanish chocolate-covered almonds, fresh seasonal fruit, house-roasted almonds, locally made cookies from Cookie Bar and baguette); the French Revolution (French cheeses including Fourme d'Ambert, Brie d'Meaux, Mimolette and Morbier, a country pate, nicoise and picholine olives, crunchy cornichons, French whole grain Dijon mustard, fresh seasonal fruit and baguette); and the Alla Campagne (an Italian countryside-inspired picnic with Prosciutto San Daniele, Pecorino Gran Reserva, Porchetta Leoncini and Tomini cheeses, plus curried cauliflower and pickled ginger carrots from Sourpuss Pickles in New York, oven-roasted tomatoes marinated in olive oil and herbs, mixed olives, Tuscan white bean puree and baguette). All Picnics for Two are available for $39.99, plus tax, and should be ordered no fewer than six hours in advance by calling any shop location. Custom picnics are also available.
For a travel-friendly lunch or dinner for one, customers can choose any sandwich or salad from Pastoral's newly-expanded menu and "Pastoralize" it by adding $3.87 plus tax to the sandwich or salad price (includes any Pastoral sandwich or salad, a bag of gourmet potato chips, small drink and locally made cookie from Chicago's Cookie Bar).
All Pastoral's picnic collections are eco-friendly with biodegradable packaging including plates and utensils made from potato starch, recyclable paper bags and napkins. Additionally, many of Pastoral's wines, spirits and brews focus on organic, biodynamic or sustainably-produced selections that are both food- and earth-friendly.
The Pastoral team is available to help customers pair a bottle of artisan wine or beer with their picnics from the shop's thoughtfully-selected collection of small-batch, handcrafted wines, spirits and brews. Pastoral's wine and beer buyers have selected many of their favorite wines and artisan brews for summer 2011, most of which feature a screw top or champagne-style stopper⎯ no corkscrew required⎯ which is ideal for summer outings.
A full range of sandwich, salad and picnic accompaniments are also available at all Pastoral shops including Spanish garlic potato salad, hummus, cheese-stuffed sweet peppers and tabbouleh, plus cheeses, breads, olives, sweet and savory spreads, honeys, homemade cookies, confections, chocolates and fruit.
For more information on Pastoral Artisan Cheese, Bread & Wine and nationwide shipping, visit the company's NEW web site at http://www.pastoralartisan.com.
# # #
About Pastoral Artisan Cheese, Bread & Wine
Pastoral, a venture of Pastoral Enterprises, LLC, is a European-inspired, authentic neighborhood cheese shop, offering the highest quality fine and artisan cheeses from America and around the world, select small production wines and freshly baked breads along with a full complement of related items such as charcuterie and olives. Pastoral also offers custom gift collections, gourmet sandwiches and salads, picnics and catering. The company was founded in 2004 in the East Lakeview section of Chicago and was named in 2007 as one of six Outstanding Specialty Food Retailers by the National Association for the Specialty Food Trade (NASFT). For more information or to shop online, visit http://www.pastoralartisan.com
STORE INFORMATION
PASTORAL Artisan Cheese, Bread & Wine – Lakeview
2945 North Broadway
Chicago, Illinois 60657
773-472-4781
Hours:
Monday – Friday
11:00 a.m. - 8:00 p.m.
Saturday
11:00 a.m. - 7:00 p.m.
Sunday
11:00 a.m. - 6:00 p.m.
PASTORAL Artisan Cheese, Bread & Wine – Loop
53 East Lake Street
Chicago, Illinois 60601
312-658-1250
Hours:
Monday – Friday
10:30 a.m. - 8:00 p.m.
Saturday and Sunday
11:00 a.m. – 6:00 p.m.
PASTORAL Artisan Cheese, Bread & Wine – Chicago French Market
131 North Clinton Street
Chicago, Illinois 60661
312-454-2200
Hours:
Monday – Friday
10:00 a.m. - 7:30 p.m.
Saturday
10:00 a.m. - 5:30 p.m.
Closed Sunday
Shop 24/7, 365 days per year at Pastoral's NEW online store: http://www.pastoralartisan.com