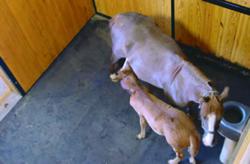 We are excited to have put together such a solid line of Horse mat products so quickly.
Chandler, AZ (PRWEB) July 19, 2011
Rubber Flooring Inc. announces the introduction of Horse Stall mat (Equine Flooring) covering options. Horse mats are available in a wide variety of sizes, textures and colors. All Stall mats are nontoxic and easy to clean. The Horse Stall mat options at Rubber Flooring Inc. provide a clean, comfortable and durable surface for your horse. All equestrian barn flooring options are easy to install for barns and/or stalls along with affordable options for trailers, alleys and animal hospitals.
"We are excited to have put together such a solid line of Horse mat products so quickly" says Kurt Leitinger. "We feel that we have a solution for any environment. Whether our customers are expecting a new horse, already have a horse or have a commercial need, we believe we have a helpful solution. Our prices are low and aggressive and we believe that these horse stall mats are going to be a big hit." The Rubber Flooring Inc. team agrees and is excited about the launch. "I always believed our company should expand into the Equine flooring market", states rubberflooringinc.com CMO Anthony Schmidt.
"Rubber Flooring Inc has been the industry leader in providing gym flooring and interlocking foam fitness mats for use in commercial weight rooms and home gyms for quite some time", concludes Kurt Leitinger. "Now we are excited to expand into some new important product lines that will not only benefit our customers, but also move our company into an entirely new market we have not targeted before."
The flooring or foundation for stalls along with barns and trailers is extremely important. Horses need a comfortable environment since a great deal of time is spent in these stables. Dirt and/or clay flooring can retain moisture causing mold issues. Cleaning those types of surfaces can be time consuming and provide little warmth. Concrete floors could increase stress on many muscles while standing leading to undo injuries in the future. Flooring designed for stalls is crucial for a safe, clean, thriving environment.
Rubber Flooring Inc. has the flooring needed for horse stalls. One popular choice is the Diamond Top Horse Mats. Diamond top interlocking mats were originally designed to be used as horse stall mats however these mats have quickly become a multi use barn and animal mat and are frequently used for cows, pigs, and dogs as well. These rubber horse mats have a diamond top pattern design for added traction and will not harbor or grow bacteria. The equine mats are also easy to install, help reduce bedding costs in barns as well as help to keep animals safe and protected from cold hard sub floors. The diamond top interlocking mats also come with an industry leading 12 year warranty.
Another great option for horse stall flooring is Waffle Backed Animal Mats. Waffle backed interlocking mats were designed to be used as horse stall mats for use in foaling and semen collection stalls. The waffle underside construction of these rubber stall mats, provide a softer mat for superior hoof traction. The softer surface also aids the mare during foaling and helps to provide better traction for the foal during those first few days of standing. The waffle backed mats also have a diamond pattern top surface to aid in slip prevention.
Many other options exist such as Button Top Stall Mats, Horse Stall Tiles, Extreme Mats and Rubber Tiles, Mega and Mega-Lock Rubber Tiles, Rubber Gym Tiles, Regrind and Eco-Flec Rolls, Pre Cut and Strong Rubber Rolls and Rubber Pavers. The choice is yours. Friendly customer service representatives are available to help with questions on finding the right fit for your specific need. All options are competitively priced to provide customers with a budget friendly solution with a high quality product.
Rubber Flooring Inc. is the choice for caring for your horse. Flooring choices such as concrete or dirt can cause a multitude of health problems. Proper animal flooring provides many benefits. The rubber flooring will allow joint protection and shock absorption for all involved; horse, owners and trainers. They will not absorb odors and help with keeping the horse and animals dry while providing a comfortable surface.
About Inc Stores, Owner of Rubber Flooring Inc.
Headquartered in Chandler, AZ, Incstores owns the leading online destination for residential and commercial specialty flooring options including RubberFlooringInc.com, FoamTiles.com, and Garage FlooringInc.com. Rubber Flooring Inc. is focused on providing the best selection of rubber flooring, garage flooring, and foam mat products online to its valued customers. All of Inc Stores web shops offer competitive pricing, a top notch and knowledgeable sales and service, and the widest selection available. For more information, please visit http://www.rubberflooringinc.com.
###