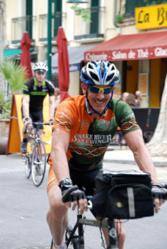 The new bike tour in Spain and France explores the best of Catalonia, from Pyrénées peaks to the Mediterranean coast, including some of Lance Armstrong's favorite training roads.
Newburyport, MA (PRWEB) July 19, 2011
In the middle of July, the Tour de France is in high gear. Cyclists who want to bike like Lance Armstrong may never be able to match his technique. But they can pedal some of the legend's favorite biking roads on a new European bike tour offered by Easy Rider Tours this September.
Easy Rider's new "Pyrénées to the Sea" cycling route explores Catalonia, a region along the Pyrénées mountain range on the border of Spain and France. An endless variety of landscapes unfurls along the eight-day biking route: emerald plains, Pyrénées peaks, vineyards and orchards, forested hillsides, France's Côte Vermeille and Spain's Costa Brava. Pristine mountain villages and walled medieval towns offer enticing breaks from biking. The last day's ride is a scenic serpentine descent from the Pyrénées heights to the Spanish coast along the Mediterranean Sea. Catalonia has long been a favored training ground for professional cyclists, and Lance Armstrong made Girona, Spain, his home and training base for five years. Cyclists who want to make like Lance can follow some of his favorite biking routes, including a stiff climb up the appropriately named "Els Angels" mountain pass.
Catalonia's mountain scenery and Mediterranean ambiance inspired many artists of renown, and cyclists will have several opportunities to pay homage along the bike tour route. Marc Chagall, Pablo Picasso, and composer Isaac Albéniz all created some of their most memorable works while living in Catalonia. Cyclists may recognize landscapes made famous by painter Henri Matisse as they visit the French coastal village of Collioure. Salvador Dali was perhaps Catalonia's quirkiest resident, and the bike tour route includes the "Dali Triangle," visiting the artist's house-studio in Portlligat, his theatre-turned-museum in Figueres, and the castle he bought for his wife Gala in Pubol.
Evenings find cyclists relaxing in authentic Catalan style at boutique inns, a 16th-century mansion, and a beachfront hotel in Tossa de Mar which has been designated a historic landmark for its iconic Modernisme architecture. Pedaling those miles burns plenty of calories, and bikers can indulge in the best of both Spanish and French cuisine without a single twinge of guilt. The cuisine of Catalonia is reputed to be among the best in Europe. From crepes filled with French cheeses to savory Spanish paella, meals are creatively designed, masterfully prepared, and artfully presented. Wine is included with evening meals; sparkling cavas (Spain's version of champagne) are regional favorites.
"Pyrénées to the Sea" bike tour dates for fall 2011 are September 25 to October 2. The eight-day tour price of $3,650 per person includes all accommodations, most meals, museum admissions, and use of a high-quality 27-speed bicycle. Each group is accompanied by two experienced cycling guides who are also expert mechanics. A support van comes along to carry luggage, provide snacks, and offer any assistance bikers might need (including lifts for those needing breaks from Pyrénées pedaling).
For a free catalog or more information on Easy Rider's bike tours in Spain, European cycling tours, and biking vacations in Canada and New England, contact Easy Rider Tours at 800-488-8332 or visit http://www.easyridertours.com.
About Easy Rider Tours
Since 1986, Easy Rider Tours has specialized in biking vacations in Spain, Portugal, Ireland, New England, and the Canadian Maritimes. Each of Easy Rider Tours' itineraries provides the company's signature balance of cycling, culture, and cuisine, delivering the experience of a lifetime to active travelers worldwide.
###