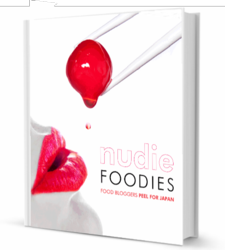 Los Angeles, CA (PRWEB) July 20, 2011
Food has an international language all its own. We bond over meals and share cultural rituals through food, so it was only natural that after the devastating earthquake and resulting Tsunami in Japan, food bloggers from around the world came together to cook and bare all for a unique, online cookbook to help raise money for AmeriCares Charity's Japan Relief Effort. Eighteen men and women from the United States, Canada and Great Britain strut their stuff and recipes in the pages of Nudie Foodies: Food Bloggers Peel for Japan . This one-of-a-kind book features eighteen delicious recipes with adjacent full-color photos of the delectable dishes and scantily clad food bloggers who created them.
Bren Herrera, best known for her popular food blog, FlanboyantEats.com, says that she wanted to help relief efforts anyway she could. Born in Havana, Cuba and raised in Washington DC, this fiery and sassy foodie jumped at the chance to bare it all for charity. "When the book producers approached me about participating I said, 'yes,' what a great way to raise money for a good cause."
"For me personally becoming a nudie foodie was about finding out how comfortable I was with walking around naked in front of two women (one whom I had just met earlier that day) and a Playboy photographer. Once I agreed to be a part of it, there was no turning back."
Like the famous Calendar Girls of Britain, the 18 men and women bloggers stripped down, cleverly covered their bits with everything from fruit to spatulas to pies, and created recipe themed pin-up images that are funny and titillating. Besides Bren Herrera, bloggers Ethan from Tastes Better With Friends, Gail – One Tough Cookie NYC, Irvin – Eat The Love, Kim – The Yummy Mummy, and Michael from Food For The Thoughtless, contributed skin and recipes to the book. The cheeky nature of the book, along with delicious recipes, will making cooking fun as well as providing a great way to help the people of Japan.
The Nudie Foodies- Food Bloggers Peel for Japan, is available for online purchase via their website http://www.thenudiefoodies.com. 100% of the net profits from sales of the book go to AmeriCares Charity.
Bren Herrera's Pistachio Wonderful Flan
from Nudie Foodies: Food Bloggers Peel for Japan
Serves 8-10
INGREDIENTS:
6 tbsp. sugar
3 eggs, whisked
1- 14 oz. can sweetened condensed milk
14 oz. 2% or whole milk
1/4 cup pistachios, finely chopped, parted
1 tsp. vanilla extract
METHOD:
For custard:
In a medium bowl, whisk eggs. Add and whisk in sweetened condensed, 2% or whole milk, 1/2 amount of pistachios and extract. Set aside
For caramel:
Add sugar a 1 quart flan mold and bring to medium-high heat. Allow all of sugar to melt down until golden caramel, stirring constantly. Do not allow the color of the sugar to become too dark or burn. When sugar is fully liquified, carefully coat the bottom and entire sides of the flan mold using hand towels to hold the pan (I suggest using a brush if you are not experienced in handling extremely hot caramel). Let sit for 2 minutes until sugar sets. Pour custard mixture into flan mold. Close lid tightly if it has latches. If using a non-lid mold, cover tightly with aluminum foil.
Add 2 cups of water to large saucepan and gently place flan pan into Maria bath. Bring to boil for 45-60 minutes or until fully cooked without the custard becoming too firm. When just at the point of less than too firm, bring heat to low and let simmer for 5 minutes. Remove flan mold from Maria bath and discard excess water from saucepan.
Do not remove flan from mold. Refrigerate for 7-9 hours or overnight for best infused flavor. To unmold, use a butter knife and loosen the sides of the flan all the way around. Take a large plate, place upside down on top of flan and gently flip. Serve on large plate. Garnish with remaining pistachios, covering all of flan. Slice individually. Be careful not to waste any of the caramel sauce.
FOR MEDIA INQUIRIES CONTACT:
TRINA KAYE – THE TRINA KAYE ORGANIZATION
310-915—0970 / TrinaKaye(at)tkopr(dot)com
###