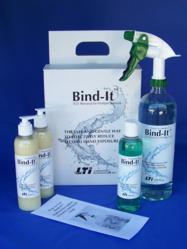 I am pleased to welcome Bind-IT into our product portfolio. As a Thyroid Cancer Survivor, Bind-IT allowed me to go home without the fear of contamination to my loved ones. Ron Narine-Singh, president Engram Medical. Ltd.
Maple Park, IL (PRWEB) July 19, 2011
Bind-It Patient Kits provide a simple, highly effective way for thyroid patients who receive radioactive iodine (I131) treatment to ensure the safety of their families. Contact with contaminated surfaces can cause unwanted uptake by family members (especially children).
Toilets, sinks, showers, bathroom floors, tv remove controls, doorknobs, telephones, etc. are all common surfaces which will become contaminated. Many household cleaners such as bleach can cause radioiodine to volatilize and become airborne. This can create a wider area of contamination rather than a confined one. The Nuclear Regulatory Commission instructs anybody who works with radioactive materials to practice ALARA (as low as reasonably achievable) with regard to radiation exposure. The same principles apply to patients, family members and the general public. Internal uptake of radioactive iodine by non-patients should always be avoided.
Bind-It Patient Kits contain a spray and concentrate for surfaces, and liquid soaps for both hands and body. Bind-It products have been used for the past 20 years by institutions for removing radioactive iodine contamination. Bind-It Patient Kits contain complete instructions for how and where to clean to effectively reduce the chance of second hand exposure to family and children. All components of the kits are safe and highly effective when used per instructions. Bind-It is pleasantly scented to encourage frequent use.
Bind-It Patient Kits provide a simple, inexpensive and highly effective way for thyroid patients to protect their children, families and friends from unnecessary second hand exposure and internal uptake of radioactive iodine. ALARA applies to everyone, and internal uptake resulting from unseen contamination can be now be avoided. Complete instructions explain where and how to use Bind-It Patient Kits to clean the most likely contaminated surfaces.
About Laboratory Technologies, Inc.
Since its founding in 1983, Laboratory Technologies, Inc. has been designing and building nuclear counting instrumentation, calibration sources and Bind-It decontamination products. Millions of samples of radioactive iodine have been counted on our instruments around the world. Laboratories, research centers, nuclear medicine departments and nuclear pharmacies are our main customers.
About Engram Medical, Ltd.
Engram Medical Ltd is a Canadian Corporation that provides 21st century healthcare solutions for their clients. They have vast experience in both the Public and Private sectors in Canada. Engram Medical is composed of allied health and business professionals with over 40+ combined years of experience in Canadian healthcare. They deliver evidenced based, custom designed products and services to their clients based on their special needs. Through cost effective, easy to use products and services; and by co-management, education, and health promotion they deliver a better customer service experience.
###