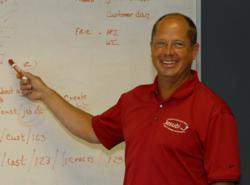 We've tried to eliminate every extra second and extra click that eats away at valuable selling time.
Indianapolis, IN (PRWEB) July 20, 2011
Jesubi, a provider of CRM software focused on sales productivity and analysis, announced today it achieved record growth in the second quarter. The company increased bookings an estimated 300% year over year, while revenue increased 250% for the same period. As a result of its strong performance, Jesubi nearly doubled its staff, with plans for continued expansion.
The company also announced new client relationships with Adobe, Bostech Corporation, netFactor, and Sybase, as well as a large expansion from existing customer IU Health Partners.
The List Builder & Segmentation Engine, which enables users to build customized lists within a matter of seconds, was Jesubi's most notable technology enhancement released within the second quarter.
"We've tried to eliminate every extra second and extra click that eats away at valuable selling time," says CEO Bill Johnson. "It's all about putting the control in the hands of the user and enabling them to carve out actionable segments."
A consistent user of Jesubi within their own sales team, the company witnessed the power of List Builder & Segmentation Engine within weeks of its launch. According to Johnson, "We built a list of prospects we'd given a demo to last year but not spoken with for over ninety days. All in – from creating the list, to outlining the desired follow-up approach, to task assignment – the administrative aspects of the campaign took less than 5 minutes."
Within two weeks of the campaign launch, the company had scheduled over thirty re-engagement appointments and closed one opportunity. "We already know that this is a qualified audience," continued Johnson. "The impact this will have to our bottom line will be tremendous."
About Jesubi
Jesubi helps organizations of all sizes and kinds improve their sales processes. Jesubi's unique sales tracking software and web based CRM tools make it easy for sales managers and teams to work faster and smarter. Co-Founded by Bill Johnson, who previously served as the EVP of Sales at Aprimo, Jesubi is headquartered in Indianapolis, IN. Learn more at http://www.jesubi.com/more.
# # #