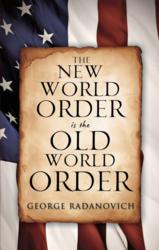 Americans know anarchy is not a replacement for big government and are searching for a new world view.
Longwood, FL (PRWEB) July 20, 2011
According to former congressman and author George Radanovich, politicians in Washington are grappling with a soaring national debt that threatens America's status in the world and, indeed, her very future. Even more urgent than the massive debt accumulated over the decades, he says, are the crumbling institutions left in the wake of the failed experiment of socialism. Anarchy is not a replacement for big government and are searching for a new world view. But the way forward will never be found until Americans understand how this nation fits within a higher purpose for all men and women. The New World Order Is the Old World Order ($14.99, paperback, 978-1-61379-262-9; $22.99, hardcover, 978-1-61379-263-6; $7.49, eBook, 978-1-61379-402-9), a riveting new Xulon title from George Radanovich, clarifies what the American people must do to secure this country's future.
"If you are concerned about the decline of America and expect Washington to correct it, you will be sadly disappointed," the author says. "Real change begins with a working knowledge of the world's oldest order, the four institutions of faith, family, work and government, established in Genesis at the beginning of time. We need to restore these institutions by returning charity to the private sector and rebuilding the family."
Radanovich, native of Mariposa, California, served in California's 19th congressional district from 1995 to 2011. "Sixteen years as a member of Congress in Washington, DC, has shown me what works and what doesn't," he explains. "I am convinced politics is downstream from culture and real reform begins not in Washington, DC, but in our culture here at home."
Xulon Press, a division of Salem Communications, is the world's largest Christian publisher, with more than 8,000 titles published to date. Retailers may order The Four Institutions of the Cultural Mandate through Ingram Book Company and/or Spring Arbor Book Distributors. The book is available online through xulonpress.com/bookstore, amazon.com, and barnesandnoble.com.
# # #