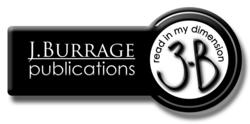 Taking over the industry, one book at a time.
Mesilla Park, NM (PRWEB) July 19, 2011
J. Burrage Publications, LLC has announced an open call for new writers to submit manuscripts within multiple genres. JBP specializes in new authors, with a focus on helping African-American women with stories to tell get their manuscript published and in the hands of readers around the world.
JBP is seeking new writers, though established writers are also welcome to submit manuscripts. Currently, JBP is accepting submissions in the following genres:

Fiction (general, contemporary and urban)
Poetry
Science Fiction
Mystery (general, contemporary and urban)
Urban and contemporary fiction are the most heavily sought submission types, and writers are asked only to submit samples of their manuscript (not full manuscripts). The publisher offers full submission guidelines at http://www.jbpublications.com/becoming_a_jbp_author/submission_guidelines.
JBP is a new publishing house that began accepting new authors in 2011, and their goal of "taking over the industry, one book at a time," is very apparent. While the company might be new, they have published several critically acclaimed novels, including Caught Up, a street thriller, and Secrets Revealed, a sci-fi thriller. One factor that sets JBP apart from other publishers is their mission – to find unknown writers with powerful, compelling stories to tell and build their reputations. With a significant focus on attracting and promoting minority female authors, the publisher offers something that few others can.
The "3-B Dimension" experience is another innovative development here. This is an entirely new reading experience, designed to hook readers and leave them wanting more – creating the most unique experience the reader has ever known. Lesser-known writers, undiscovered talents and new authors will help build the 3-B Dimension through compelling stories unlike anything readers have read previously, creating a synergistic platform for all authors published through JBP.
To find out more about J. Burrage Publications, LLC or to submit samples of a manuscript, visit them at http://www.JBPublications.com.
About J. Burrage Publications, LLC: Founded by author JB Burrage in 2007, J. Burrage Publications, LLC has seen significant growth, and opened their doors to new, unknown authors with compelling tales to weave. JBP is a company on a mission – to take advantage of e-publishing and Internet technology to bring readers the best novels and the most unique reading experience possible. Unlike most major publishers, JBP has embraced the e-publishing revolution and offers eBooks as well as printed books through an immense array of online retailers.
# # #