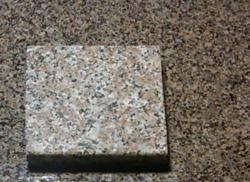 The affluent beauty of granite is now within reach for all - thanks to this new technology.
Vancouver, WA (PRWEB) July 20, 2011
Something totally cool is coming into the world of remodeling. Just like MDF (synthetic wood board) has saved many trees, while allowing all consumers to enjoy the beauty of fine furniture without paying solid wood prices, Liquid Granite Dreams technology is slowly but surely displacing slab granite, saving natural resources and making kitchen and bathroom remodeling projects a lot easier, quicker and -- most importantly -- a lot cheaper.
The affluent beauty of granite is now within reach for all - thanks to this new technology.
Liquid Granite Dreams looks like granite, feels like granite… and even fools some house appraisers, as someone has shared on our blog. But then… it installs right over the existing structures without having to tear out the existing counter (the advantage of "liquid"), takes only a day or two - as opposed to a week or two that slab granite installation may take, creates a lot less mess and costs a lot less.
It's like a magic wand that can turn practically anything into granite: a countertop, a shower stall, a bathtub, a sink… a sink and a counter together, into a solid, carved-out slab. The sky is the limit, really.
The choice of color is limitless: now people can match their countertop to their grandma's heirloom vase, for example – or to the wall color, for that matter. And remember: mo mess, no dust, no being without the kitchen for days.
Plus, Liquid Granite Dreams is even more stain, bacteria and mold resistant than the nature's version, does not require routine sealing and repairs a lot easier than slab granite - which makes it a great (while pretty) solution for hospitals, restaurants, apartment complexes and other places where sanitation is important or sprucing things up is a routine requirement.
THE TEST
Here's the test: in the picture above there are two samples, one on top of the other. Which one is slab granite, and which one is a tile finished in Liquid Granite Dreams? In a recent survey, conducted with the real-life samples, only 35% of all people gave the right answer, as long as they were not allowed to check the weight of the material. More information -- as well as the answer -- can be found on our web-page that discusses how Liquid Granite Dreams compares to slab granite and to other countertop materials in its look and durability: http://www.LiquidGraniteCountertops.com/compare
THE TECHNOLOGY
Extreme Quality Painting, dba Liquid Granite Countertops, is the first company to introduce this technology to the Portland, OR and Vancouver, WA area. The company started as a Washington business, providing general refinishing and resurfacing services, in 2003 and is located at 14710 NE 396th St., Amboy WA 98601.
Liquid Granite Dreams is a unique combination of the durability of industrial products (some of which have been developed for the aerospace), and the precision of the technicians who have years of experience working in custom homes and understand the demanding specifics of the residential sector.
This is unique combination that was achieved by merging experience in special coatings with the skill (or, rather, the ethics) of working in residential, lived-in homes. This is the first time when industrial, military and aerospace products are being introduced into the residential sector -- and all can now benefit from their exceptional durability.
This technology has been popular in Canada, Great Britain, and was vastly growing on the East Coast, but now it is making its way to the West Coast.
The use of a special UV curing light, with the help of which the material cures and becomes rock hard in 2 seconds, makes one-day kitchen remodeling a real-life possibility. After this liquid granite project is completed, kitchens can return to regular, everyday use the next day. (Unlike in the case of traditional the countertop refinishing materials, which allow return to light use within 24 hours, but take 2-3 week to cure completely). This also means less odor - and this UV-cure material is labeled environmentally safe, assured not to cause cancer or birth-defects.
THE CONCEPT OF LIQUID GRANITE
The concept of "liquid granite" has been around for a while, as the building industry was trying to come up with a synthetic version of granite. Some claimed the term due to strength of their materials, which were tough as granite, although they did not look like it. Some claimed it for the opposite reason: there are several paints around now that are now known under the name of "liquid granite", which simulate the granite look.
Liquid Granite Dreams resurfacing method, on the other hand, is the first successful attempt to deliver a professional version of synthetic granite: the material that is taken for granite at a plain glance and has the durability qualities that are essential to the heavy use of a busy kitchen.
So, for those who have always admired the smooth look and the shine of granite, but felt that it was somewhat out of their price range, this is the chance. This is also a great option for countertop repair (especially if you own apartments or rentals), and an awesome option for kitchen remodels.
Find out more at http://www.LiquidGraniteCountertops.com
Find more company information a http://www.LiquidGraniteCounterops.com/OurCredentials
###