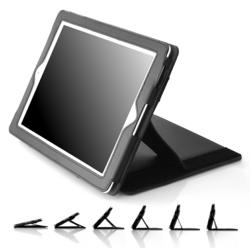 Their goal was to make adjusting the iPad as easy as turning a page in a book.
Laguna Hills, CA (PRWEB) July 19, 2011
With many schools making the choice to eventually convert their textbooks to tablets, Tennessee's Webb School stands out by making it mandatory for students from fourth to 12th grade to carry iPads. An obvious addition to this wonderful tablet is having a case that will protect it and provide versatility. ZooGue's innovative adjustable design of the Case Genius iPad Case has made the choice for schools an easy one.
Since the onset of the original case, ZooGue has continued to improve the design making their Case Genius student friendly for all levels of education. The adjustable kickstand provides limitless angles, making it extremely easy to manage the exact position needed for viewing or typing. Webb School clearly agrees by choosing the Case Genius iPad Case as their schools case of choice.
ZooGue believes the addition of tablet computers in schools is just the beginning. The idea that a device can replace heavy textbooks as well as provide a tool for interactive learning brings an exciting twist to the way children will learn. Being active supporters of children's programs and education, ZooGue reaches out to schools providing this remarkable case. Their goal was to make adjusting the iPad as easy as turning a page in a book.
The Case Genius tablets are available at http://www.zoogue.com. ZooGue is inspired to continue to bring innovative products to their large base of customers who require nothing less than perfection. They are committed to making the best products and will continue to strive for excellence.
###