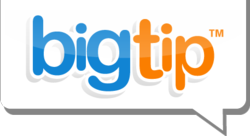 Seattle, WA (PRWEB) July 19, 2011
When sites like Groupon and LivingSocial first arrived, consumers and merchants were intrigued. A couple years have now passed, and the verdict is in: daily deal sites can be problematic for businesses and a game of dice for consumers. BigTip.com, a new online deal site that launched in May, 2011, uses an intelligent targeting system to optimize the promotion of thousands of highly relevant deals, making them accessible to the right people, in the right places and at the right times, every day. Instead of a single Daily Deal, BigTip delivers hundreds of offers in a market allowing more merchants to participate and providing much greater relevance to consumers. BigTip's sophisticated technology allows for a very broad scale deployment giving it the largest footprint of offers in the market and the unique ability to provide great deals to suburbia and not just the big city.
"What we've done," says Chris Matty, VP of business development, "is turn the existing model on its head. Instead of starting with a single deal and broadcasting it to millions, we start with the consumer. Our event-driven architecture identifies the best deals to promote to a given user based on a complex set of known consumer characteristic data." BigTip's targeting and promotion engine leverages a massive consumer database incorporating 250 fields of demographic, psychographic and geographic attributes, which allows for hyper-specific promotion of local deals. For example, runners likely desire health related offers and deals for kids' activities appeal to families with children. If a household is of a particular ethnic heritage, BigTip can offer deals on the regional cuisine that they like.
"This is a fundamentally important technology that successfully addresses long-standing problems in the deal space," Matty says. Merchants are clearly noting their dissatisfaction with the loss leader model, and considering that only around 4% of users return to the business after redeeming their voucher, identifying and promoting to the ideal target customer will bring significant improvements. "It's very clear that the market is trending away from the single 24-hour deal, and improved targeting of offers is a critical element in this evolution," says Thomas Cornelius, CEO of Adility, a major supplier of deals to the marketplace. "We are seeing a very notable improvement in sales conversion since BigTip started promoting our deals using its intelligent targeting technology."
Founded in 2010, BigTip soft-launched in May of 2011 with an impressive list of more than 100,000 local deals in approximately 6,000 individual markets. As a result of highly scalable technology developed by the BigTip team (including former Yahoo!, InfoSpace and Intelius executives), the company possesses a unique ability to target the largely ignored suburban deal market, which in total has 2.5 times the population base of urban hubs. Different from other daily deal sites, BigTip features multiple deals per day in a given city that are delivered to consumers based on what is most relevant to each user.
###