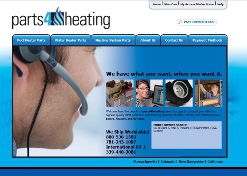 Wilmington, MA (PRWEB) July 19, 2011
The newly redesigned Parts 4 Heating website makes it easier for visitors to find and order what they need. The new design organizes Parts 4 Heating's vast selection of parts in an intuitive way, both logical and predictable, to take visitors effortlessly through an extensive inventory of manufacturers and models in three product categories: pool heater, water heater, and heating system parts.
The site was redesigned so that the homeowner with a midnight heating emergency can navigate it just as easily as the professional who has repaired heating pumps for decades. Parts 4 Heating knows that their customers include not just professionals, but individual homeowners and business owners, as well, and they want every customer to have a positive experience.
If a customer knows the model number of their existing heating system, they can use the new advanced model number search box to locate specific parts effortlessly. Whether people are looking for Pentair, Raypak, Teledyne Laars, Hayward, Lochinvar, Sta-Rite, Zodiac, Baxi, Jandy, Triangle Tube, or Bradford White parts, the new site layout helps them find the quality OEM parts they're looking for right away. When customers use the site to make a purchase or obtain information, Parts 4 Heating wants them to sign-off feeling confident about their experience. The new advanced model number search box confirms that the part or information customers receive applies specifically to the system they own, every time.
If you require additional or more personal assistance, contact Parts 4 Heating's well-known after-hours support. With live staff available 14 hours a day and 24 hour email support, customers can still rely on the trusted support of Parts 4 Heating at all hours.
# # #