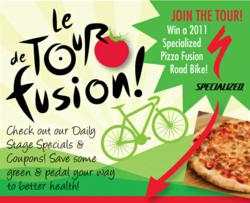 I have taken over the focus and vision of the company and we are doing some exciting things.
Fort Lauderdale, FL (PRWEB) July 20, 2011
Pizza Fusion co-founders, Vaughan Lazar, CEO, and Randy Romano, President, have taken the reins in expanding the brand's identity by launching and announcing its first of many new initiatives. Lazar has enlisted the expertise of one the nation's top restaurant-branding and social firms, DigitalCoco, in order to develop a new digital brand position and increase their overall market presence. Romano has undertaken the task of global expansion, while both founders continue to assemble an all-star marketing and operations team.
The first of many digital marketing programs for the brand include Le Tour de Fusion, an interactive contest via the restaurant's Facebook page. Le Tour de Fusion allows Facebook fans to enter to win a specialized road bike; this prize encompasses and promotes Pizza Fusion's passion about energy awareness and the need for alternative transportation. Participants also have the opportunity to receive daily specials and coupons for free pizza. The contest name is an ode to the 21 days of the LeTour de France, one of the most grueling races in the world. Pizza Fusion hopes Le Tour de Fusion will catalyze conversation and awareness about alternative transportation and encourage consumers to become more active in their day-to-day lives. Pizza Fusion will also be promoting this alternative transportation-focused campaign via its official Twitter page and handle: @PizzaFusion.
"This is part of an overall digital strategy that involves bringing our Le Tour de Fusion project to the forefront of some really exciting things we are doing as a brand. Le Tour de Fusion is about a lifestyle of health, wellness and social responsibility; our goal is to use the Le Tour at different times of the year to promote the cause of alternative energy and transportation methods as well as health and wellness," states Lazar. He continues, "We have partnered with what we think is the premier digital brand agency for restaurants in the United States. DigitalCoCo, led by industry innovator, Paul Barron, focuses on building a digital presence in social, web and interactive media. Pizza Fusion's digital plan is just getting started! A variety of special programs and new brand elements are coming very soon."
In reference to his role as CEO, Lazar states,"I have taken over the focus and vision of the company and we are doing some exciting things. We thank Mark Beagelman for his efforts and direction over the past few years and know he has a very bright future with his new endeavors. Big surprises are on the horizon."
Vaughan Lazar went on to explain that the launch of Le Tour de Fusion and corresponding Twitter campaign are just the beginning of the brand's blossoming future. "We have already increased our Facebook fan base by more than 20% in less than two weeks," said Lazar. "These are exciting times and we are fortunate enough to have a great team and franchise support in order to make our re-focus on the brand a huge success."
Pizza Fusion hopes to bring its socially and environmentally conscious business model to countries around the globe. Pizza Fusion has recently signed deals in the Middle East and South America, all while continuing a rapidly developing presence in the United States.
About Pizza Fusion
Pizza Fusion was co-founded by Vaughan Lazar in 2006 in order to provide on-the-go, health conscious consumers with fresh, organic and earth-friendly eating options. Pizza Fusion's commitment to make delicious items through social and environmental awareness is not only found in their carefully crafted menu, but also extends into every aspect and detail of the restaurant's operations. Gordon and Lazar's entrepreneurial spirit and pursuit of corporate responsibility has risen the bar for the fast casual dining experience: All Pizza Fusion locations are currently transitioning to energy efficient LED lighting, all deliveries are conducted in company-owned, hybrid vehicles, and all employees working over 20 hours a week receive health insurance. Pizza Fusion also utilizes biodegradable containers and utensils, sanitizes with eco-friendly products and provides employees with 100% organic cotton apparel.
Whether it be building their counter tops from recycled detergent bottles or staying in accordance with the Leadership in Energy and Environmental Design's standards, Pizza Fusion aims to infuse integrity into their ingredients, their service and their locations. This dedication to global connectivity, green resources and quality products enhances the consumer experience, while also investing into the preservation and sustainability of our delicate planet.
For more information about Pizza Fusion and its green initiatives, please visit http://www.pizzafusion.com.
About DigitalCoCo
DigitalCoco is the brainchild of fast causal industry leader, web entrepreneur and publisher, Paul Barron. Barron developed the agency after taking note of the restaurant industry's shift to a primarily online presence. The agency encompasses Barron's idea of "Brand Artistry" - brand development that utilizes in-depth research, fresh creativity and unbeatable technology to create the ultimate brand experience. The company aims to captivate and engage their client's desired audience and influence target consumers into action. DigitalCoCo prides itself on its precise analytics and dedicated team, factors that have made them one of the industries leading brand developers and information resources.
For more information about DigitalCoco, please visit http://www.digitalcoco.com.
###