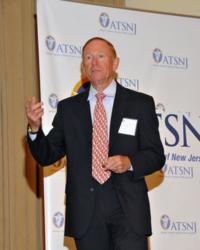 "Education leads to early prevention which will result in shorter recovery periods and an early return to play progression."
- Ruben Echemendia, PhD, PsY
Plainsboro, NJ (PRWEB) July 19, 2011
A panel of renowned medical experts in the field of sports related concussions presented the latest scientific evidence in practical concussion management techniques, at the Athletic Trainers' Society of New Jersey (ATSNJ) 2nd Annual Sports Concussion Summit in Plainsboro. The ATSNJ held the Sports Concussion Summit as a means to educate physicians, nurses, athletic trainers and health care providers who play a role in the management of sports related concussions. Over 150 health care providers attended this event which was held less just one month prior to the start of the 2011 fall youth recreation, collegiate and high school sport seasons.
Among the topics discussed by the panel, which included Dr. Robert Cantu, the Medical Director of the National Center for Catastrophic Sports Injury Research and Co-Director of the Neurological Sports Injury Center, was the continued need for concussion education and discussion amongst health care providers as well as the general public. Additional topics presented included the evaluation tools and methods available to the healthcare provider, the biomechanics behind sports concussions, the management of sports concussions and the long term effects of concussions.
Cantu discussed in detail the need for continuing research, education and evaluation of concussions and how they affect sports in the United States as we know them today. He also made referencing to defining the word asymptomatic as it pertains to the concussed athlete.
"We shouldn't just think about asymptomatic but use the whole picture as a clearer picture. We need to be careful about what the products coming out are pushing, the wise thing to do when suspected concussive episode; sit them out and get to a trained professional," according to Cantu
While the summit was heavily attended by athletic trainers and physicians, the concussion "problem" does not affect just physician and athletic trainers. Jason Mihalik, PhD, CAT(C), ATC Assistant Professor, Matthew A. Gfeller Sport-Related Traumatic Brain Injury Research Center stated "Concussion education initiatives need to reflect the multidimensional nature of the injury. Athletes need to be educated in proper playing technique and injury recognition(particularly in encouraging the reporting of injuries), coaches and parents informed to recognize and respond to suspected injuries, and officials instructed to correctly enforce playing rules intended to keep athletes safe during sports participation." Mihalik continued, "Medical professionals along the entire continuum of athlete care all need to be on the same page with respect to injury recognition, evaluation, diagnosis, management, and return to participation."
"Education leads to early prevention which will result in shorter recovery periods and an early return to play progression." according to Ruben Echemendia, PhD, PsY of Psychological and Neurobehavioral Associates, Inc. "Information on signs and symptoms of concussion should be readily available to athletes, parents, coaches and organizations should provide this information before competition begins," added Margot Putukian, MD Director, Athletic Medicine Services Team Physician, Princeton University. Putukian continued on stating "Youth organizations should ensure that equipment meets appropriate criteria, is fitted properly and modifications with regard to contact/collision should be considered for younger athletes."
Eric Nussbaum, an athletic trainer at Colts Neck High School and the ATSNJ President, expressed the ATSNJ's support of concussion education and open dialogue on concussion management amongst healthcare providers and the public. "The ATSNJ has and will continue to be at the forefront of education for everyone along the concussion continuum."
Steven Broglio, PhD, ATC Assistant Professor Director, Neurotrauma Research Laboratory School of Kinesiology at the University of Michigan, Ann Arbor, MI discussed his concern with access to athletic healthcare at the youth level sports. He stated, "45,000-70,000 head injuries occur a year at the high school and youth level yet only 50% of those athletes have access to on-site athletic healthcare nationally." Nussbaum agreed emphasizing the ATSNJ's position that the best way to ensure the safety of student athletes is to have a licensed athletic trainer on staff.
ABOUT THE ATHLETIC TRAINERS' SOCIETY OF NEW JERSEY
ATSNJ, Inc. consists of Licensed Athletic Trainers, physicians and other allied health care professionals whose goal is to promote quality healthcare for athletes in any setting. For more information, visit the ATSNJ on the web at http://www.atsnj.org.
# # #