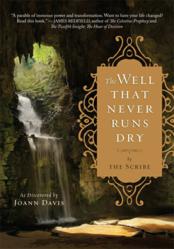 "A parable of immense power and transformation." — James Redfield, author of The Celestine Prophesy and The Twelfth Insight: The Hour of Decision
San Francisco, CA (PRWEB) July 25, 2011
In the tradition of Paulo Coehlo's The Alchemist, Joann Davis offers a parable in the form of a package that arrives from an antiquarian bookshop in Frankfurt, Germany. The recipient opens it to find a mysterious note and a rare book. Efforts to translate the book result in The Well That Never Runs Dry (HarperOne; Hardcover; $19.99; March 2011; 9780061844683), a companion to The Book of the Shepherd and a journey of discovery that leads to a place of faith, hope, and love.
The story begins with Elizabeth, a compassionate midwife who is deeply saddened to discover the body of a small child drowned in a rain-swollen river. Elizabeth is plagued by age-old questions: Why do the righteous suffer? Why does God take children before their time?
Seeking solace in a time of sadness, Elizabeth sleeps and dreams of "The Well That Never Runs Dry," which she is called to seek out. Together with her young brother, David, and her cousin, Miriam, she sets out to discover the Well. En route, the travelers meet a cast of characters including The Story Teller, The Lamp Lighter, and The Beggar Woman, each of whom imparts a story and provides clues that lead to the sacred well where Elizabeth and her companions uncover one of the greatest lessons of all—the absolute power of love.
Joann Davis is the author of The Book of the Shepherd, which Paulo Coelho has described as "a timeless story about one man who is seeking 'the new way'…an inspiring and moving fable." Joann is married to the historian Kenneth C. Davis. Together, they have two grown children, Jenny and Colin, and live in New York City and Dorset, Vermont.
# # #