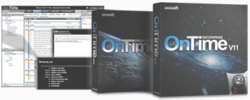 Will be giving eligible startups a free 10-user, professionally hosted version of OnTime.
Scottsdale, AZ (PRWEB) July 19, 2011
Axosoft, an agile scrum project management software provider has announced today that they will be giving eligible startups a free 10-user, professionally hosted version of OnTime, their flagship software, for 1 year.
Startups are eligible if they meet the following conditions:

The startup is less than 2 years old
The startup has 10 or fewer employees
With the honor system in place, Startups who are eligible can go to http://www.axosoft.com/startups to sign up today for their free 10-user license of OnTime.
Hamid Shojaee, Founder and CEO of Axosoft said "We want more startups to have access to great development tools, so they can build better products. With Axosoft providing startups a free 10-user license, we have completely abolished the barrier of entry and we are very excited for startups to use OnTime."
OnTime is currently used by more than 100,000 software developers (in ISV, consulting and IT organizations) throughout 55 countries, in organizations like Verifone, EA Sports, Disney, the United States Army, Lego, Cox and Intel. The product is offered in a hosted, cloud environment (SaaS) or installed.
Some features of OnTime include:

Bug, Issue, and Defect Tracking
Feature and Requirement Management
Help Desk, Customer Portal, Team Wiki
More information about OnTime 11 can be found at http://www.axosoft.com.
About Axosoft
Axosoft, founded in 2002, is a leading provider of agile / scrum project management, and bug tracking software. Its flagship product, OnTime, is widely acclaimed for its comprehensive set of features, flexibility and ease-of-use. Used by over 7,000 dev teams around the world and winner of numerous industry-recognized awards, OnTime is provided as a hosted, cloud-based application (SaaS) or as an installed application. Users access OnTime via one or more of the following clients: Web browser, Windows application, Mobile, a Visual Studio plug-in, or an Eclipse plug-in. OnTime is also available free for 2 users at Axosoft.com.
# # #