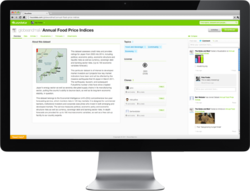 BuzzData plans to put the power to publish data directly into the hands of those who create it.
Toronto, Canada (PRWEB) July 20, 2011
Late last week the announcement of BuzzData, a "social network designed for data," caused a frenzy on tech news website Hacker News. Within an hour of appearing, BuzzData soared to No. 8 on HN's main page, driven by scores of votes and questions from curious geeks.
BuzzData plans to make "building the story around your data a snap" — putting the power to publish data directly into the hands of those who create it.
"We need better tools to publish data and track what people do with it," says BuzzData CTO Pete Forde. "Existing tools like Google Docs is where data goes to die."
"Posting data on a static, non-social website cuts data publishers off from their audience," Forde added. "It's easy to forget that data is useless without interest and ideas from the community."
Amid the recent proliferation of "marketplace"-style data startups such as Infochimps and DataMarket, BuzzData is embarking on a wildly different approach to the growing data space: Focusing on the people behind the data, not just the data itself.
"The growth of open-source software taught us that sharing your work creates enormous value. Creative individuals will come up with ideas you might never have, because they see your problem as an opportunity to innovate," Forde said.
"It's important that we remember there's a whole world of people out there: to them your data might be the missing ingredient in something incredible — and you stand to benefit from it."
BuzzData's key features will include:
i) Simple data publishing:
Drag & drop your data, tag it, and share it
ii) Smart social features:
Follow the data, topics and users you're interested in
Be automatically notified whenever data changes
Contribute your ideas, content and feedback to others
iii) Streamlined version control:
Keep every version of your data effortlessly and elegantly
Clone datasets to start your own projects
Stay connected with the original source of your data
Track what others do with your data
Starting this week, BuzzData will be allowing a limited number of users to access its beta platform. Registration for the BuzzData beta is available here.
Please direct all interview requests and media inquiries to BuzzData's communications director, Momoko Price (see contact).
###