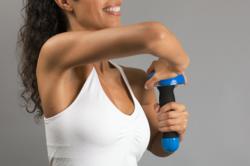 The best thing about Twist and Tone™ is that it works
Wilmington, DE (PRWEB) July 19, 2011
Universal Capital Management, Inc. (OTC: UCMT.PK) a Wilmington, Delaware company that provides management services, is pleased to announce the launch of Twist and Tone™ by GetaGrip®, a hand, wrist and forearm exerciser created by UCM's client, Innovation Industries. Innovation Industries Founder and President, William Wilkinson, has a lengthy and impressive history of developing and marketing exceptional consumer products and is a leader in fitness and exercise equipment products that include Step Reebok, the Bruce Jenner PowerWalk Plus and Nordic Track's "Walk Fit" treadmill.
Twist and Tone™ is like a gym for hands designed to strengthen muscles and improve flexibility in the hands, wrists, forearms, biceps and triceps. The product's "High Fives™" workout integrates 10 dynamic exercises that provide a comprehensive way to train, rehabilitate and prepare muscles using a revolutionary 2-way action with adjustable resistance through a full range of motion. The product's design works for hands of all sizes and a variety of fitness levels. From athletes to musicians this stress reliever has universal appeal for every lifestyle and age group.
The launch strategy is supported by an impressive Media Blitz campaign with TVA Media Group as well as credible endorsements by Dr. Thomas Graham, Founder, Arnold Palmer SportsHealth Center, and David Leadbetter, "World's Leading Golf Instructor.
"The best thing about Twist and Tone™ is that it works," says Michael Queen, CEO of UCM. "We helped develop the product and have teamed up with the best partners in the industry for the launch. This has been a long time in the making, and we're looking forward to tracking its progress." UCM will receive a percentage of sales or $500,000, whichever is greater, with more specific details to be worked out. In addition, UCM will receive a minimum 5% ownership in the item as well as 5% of net profit on a yearly basis. For more product information, visit http://www.twistandtone.com.
About Universal Capital Management, Inc.
Universal Capital Management, Inc. is a non-diversified, close-ended management investment company that has elected to be treated as a business development company (BDC) under the 1940 Act. We are a diversified, aggressive investment tool that assists early stage development companies in all aspects of the planning process from inception to entering the public marketplace. This includes assisting with the preparation of financial statements, capitalization tables, valuations, business plans and coordinating public/investor relations efforts. Our niche is to assist young companies prepare themselves for introduction to a diversified group of accredited investors in order to assist them with obtaining private debt and/or equity financing. Since we have differing clients in varied industries, our overall portfolio is extremely diversified, which we believe enables us to offer investors who invest in us a potentially higher return with less risk. Recently, our business plan has been evolving towards serving as a direct response management and marketing company.
Forward-Looking Statements:
Certain matters discussed in this press release are "forward- looking statements." These forward-looking statements can generally be identified as such because the context of the statement will include words, such as "expects," "should," "believes," "anticipates," or words of similar import. Similarly, statements that describe UCM's future plans, objectives or goals are also forward-looking statements. Such forward-looking statements are subject to certain risks and uncertainties, including the financial performance of as appropriate, which would cause actual results to differ materially from those currently anticipated. Although UCM believes the expectations reflected in any forward-looking statements are based on reasonable assumptions, they cannot give any assurance that their expectations will be attained. Shareholders, potential investors and other readers are urged to consider these factors carefully in evaluating any forward-looking statements. Certain factors could cause results and conditions to differ materially from those projected in these forward-looking statements, and some of these factors are discussed. These factors are not exhaustive. New factors, risks and uncertainties may emerge from time to time that may affect the forward-looking statements made herein. These forward-looking statements are only made as of the date of this press release and UCM do not undertake any obligation to publicly update such forward-looking statements to reflect subsequent events or circumstances.
# # #