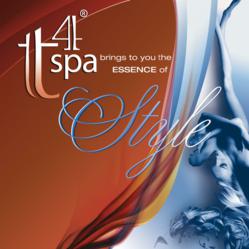 Our hearts go out to those professional beauty operators whose businesses were demolished in recent natural disasters, and this is one thing we can do to give back to our community and local business partners.
Houston, TX (PRWEB) July 19, 2011
T4 Spa Concepts & Designs of Houston, Texas announced a joint project with the Professional Beauty Association (PBA) to hold a charity auction at PBA Beauty Week, hosted by Cosmoprof North America 2011, on Tuesday, August 2, 2011 in Las Vegas, Nevada. T4 Spa will provide its lounge area furniture set in use at the event to be auctioned and the proceeds will benefit the Professional Beauty Association's NCA-Disaster Relief Fund. Bidding will take place in the T4 Spa booth #C9337 beginning on July 30 and ending at 12:00 p.m. on August 2. This year's T4 Spa booth promotes our industry's commitment to defining Style. Retail value of the 10 by 20 foot lounge area set is estimated at $18,000. It was designed and implemented by a team consisting of international award winning architect Trinh Pham, graphic designer Dominic Tran, and a group of craftsmen directed by Rom Mai, with logistics by Tammy Gee. Bidding will start at $5,000.
The booth reflects T4 Spa's unique pedicure spa designs--modern and sleek yet welcoming and comfortable. T4 Spa launches its 2012 collection of pedicure spas at Cosmoprof 2011 with this lounge area for guests, offering an escape in a modern day spa setting, flavored in vibrant colors set to awaken the spirit, while the dancing light of fire warms the soul. The complete lounge area set to be auctioned includes

two (2) modular panel walls with back-lit artistic graphic panels flanking each side of a modern, electric fireplace module;
a seating arrangement consisting of five (5) modular custom furniture pieces, cushioned seating with blown glass pendant lights hanging above, with two (2) stone top end tables interwoven into their bamboo planter box counterparts;
additional decorative panels consist of white lacquered bamboo decorative elements to include throw pillows and a custom made 8 x 12 foot shag rug; and
200 square feet of dark brown Bamboo flooring.
Furnishings are crafted with microdot matte textured laminate surfaces. Modules are designed to be individually mobilized for convenient crating and shipping by the winning auction bidder.
"At T4 Spa we are dedicated to our local communities and our local business partners," said Thuy Mai, co-founder and president T4 Spa. "Our hearts go out to those professional beauty operators whose businesses were demolished in recent natural disasters, and this is one thing we can do to give back to our community and local business partners," Thuy Mai said.
T4 Spa actively supports its local communities in the United States and Asia through donations and sponsorships, such as its recent charity auction to raise funds for tsunami aid to Japan.
Please note that a valid ticket to enter Cosmoprof North America 2011 is required to bid on the lounge.
About the PBA | NCA Disaster Relief Fund
The PBA | NCA Disaster Relief Fund was established in 1955 to assist salons in rebuilding following the devastation of natural disaster. More than one million dollars in aid was distributed to directly assist salon professionals in rebuilding after Hurricane Katrina. Since Katrina, the fund has provided aid to those affected by floods and storms in the U.S. For more information, contact the Professional Beauty Association at http://www.probeauty.org/disaster-relief-fund.
About T4 Spa Concepts & Designs
Co-owned by Thuy "Tony" Mai, Quy "Charlie" Ton and partners, T4 Spa Concepts & Designs manufactures and markets pedicure spa salon equipment for the retail spa industry, along with accompanying supplies and services.
The original pedicure spa designs of Thuy Mai are well known in the industry. Beginning in 2006, with his creation of the Jaguar pedicure spa, together with the partnership of Quy Ton, T4 Spa set a new industry standard for reliable quality construction combined with a signature design style for pedicure spa equipment. The company has innovated with hygienic enhancements such as pipeless SaniSmart[r] jets and disposable liners.
T4 Spa is headquartered in Houston, Texas with manufacturing operations in the United States and Vietnam, and the company markets its original pedicure spa equipment and supplies through a loyal dealer network in more than 50 cities in the U.S. and Canada. For more information about T4 Spa and its innovations, contact Tammy Gee at 5902 Sovereign Drive, Houston, Texas 77036, +1(888) 502-8307, or visit http://www.t4-spa.com.
About Cosmoprof North America
Cosmoprof North America is the only all-encompassing business-to-business beauty trade show event in North America. Organized by product categories, there are four pavilions that cover the entire spectrum of the beauty industry. Visit the Cosmetics Personal Care Pavilion, Packaging, Contract Manufacturing & Private Label, Spa & Wellness and Professional Hair, Nails & Tools to see trends and newness from within all segments of the beauty industry. Strong international participation solidified by the presence of country pavilions give you the global perspective on emerging trends. See existing business contacts and friends or network to make new connections during the numerous special events planned over the course of the three days. Join us in celebrating the business of beauty!
About the Professional Beauty Association
The Professional Beauty Association | National Cosmetology Association (PBA | NCA) is a non-profit membership organization made up of beauty professionals, salons and spas, distributors, and manufacturers dedicated to improving their careers, individual businesses and the industry as a whole. Led by industry volunteers, the association offers: business tools • education • government advocacy • networking • and more. For more information, or to learn how to become involved, please visit http://www.probeauty.org or call +1(800) 468-2274 or (480) 281-0424.
###