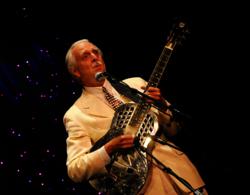 This is great entertainment. For such a small town, it's amazing what they bring here.
Mesquite, NV (PRWEB) July 20, 2011
The inaugural Mesquite Jazz Festival presented Friday through Sunday at the CasaBlanca Resort was the culmination of long hours of preparation leading to another successful "first" in this city situated about 80 miles north of Las Vegas.
Every inaugural event comes with its share of frayed nerves and the unknown, but in the end, this one had gracious attendees happy for a smaller venue where the music flowed for hours and the smiles accompanied every dance move on the floor in the CasaBlanca Showroom.
And after three days of presenting the sounds and spirit of New Orleans jazz, it was evident that Mesquite had experienced the true tradition and thrill of an all new form of life.
In the same breath, the festival attracted a wide array of followers; all of which were happy that a new venue had been created considering that many jazz festivals have ceased operations.
"I go to jazz festivals every year and I'm very impressed with this one," said David Lamott, a resident of San Diego and a retired Navy veteran. "I'm a swimmer and I love the pool here, too."
Richard Gamboa, a two-year resident of Mesquite who moved to the city from Colorado after retiring from AT&T, lauded the event.
"This is great local entertainment," Gamboa said. "For such a small town, it's amazing what they bring here. This is a golfing community that I call the Palm Springs of Nevada.
"It's a very easy-going atmosphere and we have the best of all worlds here."
Marti Schwartz of San Diego also praised the festival.
"I think that it's a great event," said Schwartz, who retired from Civil Service work two years ago and has followed festivals all over the Western United States. "I like it here because it's small and we get to watch more of the bands that we like."
Cass Cacciatore, a 48 year resident of San Diego, echoed Schwartz saying "I have been following jazz for 35 years and this is a great festival. I hope it continues."
Robert Stoltenberg and his wife, Karen, of Denver loved the venue and the music. Married for 53 years, the couple finds a great thrill in jazz.
In fact, Mr. Stoltenberg introduced his wife to jazz many years ago.
"We go from Connecticut to San Diego to Vancouver and Wisconsin," Mr. Stoltenberg said. "I love this because I really like the smaller venues with four or five bands. At the CasaBlanca, you don't have to run around and everything is under one roof."
Mrs. Stoltenberg added "This is wonderful. We go to jazz festivals all the time. It's sad that we're losing so many of them and it's good to see a new one here. I really think this has promise. This is the kind of music that people enjoy over and over again."
Bruce Fischer, a retired court reporter from San Diego, couldn't wait to talk about the Mesquite Jazz Festival.
"I love it," said Fisher, who attended as dance host after making the 10-hour drive from Southern California. "I'm so glad that this could be a yearly event. It's a great venue in a beautiful town where everyone is so friendly. Plus, it's close to California.
"I see all of the bands in California and go as far as Sun Valley, Ida. These are great bands, lovely people and we all share the love of the music. I really hope they bring it back next year."
Organized by the mother and daughter team of Sally McKay of Oceanside, Calif., and Mary McGregor of New Orleans, the Mesquite Jazz Festival not only filled a void in Southern Nevada but presented some fascinating history of jazz at the same time.
"This is an exciting celebration of American roots music which has become a beloved tradition in the Pacific Northwest," McKay said.
Indeed, the Mesquite Jazz Festival put the city on the map once again just as has been the case with unique promotions that include the Golden Gloves; Smokin' in Mesquite BBQ Championships; and the wildly-popular Elvis Rocks Mesquite, to name a few.
In a very fitting fashion at the end of the event on Sunday morning, the Marilyn Keller accompanied by the Jazznuts Jazz Band took a collection during the Gospel hour with the proceeds going to the Virgin Valley High School Jazz Band.
"When we promote a jazz festival, we always leave the area a little richer than when we came with music and by donation," said McKay. "We consider that to be a part of how we give back to a community that has welcomed us with open arms."
McKay said a total of $118 Saturday night and then added another $169 for more than $300 that was given to VVHS.
"With the amount of response we received from those who attended, everyone was overwhelmingly in favor of the Jazz Festival returning next year," she added. "If they want to see this happen again, they should contact Petra Jones of the Casablanca at pjones(at)blackgaming(dot)com.
"My band Sally's Jazznuts Jazz Band with Marilyn Keller really enjoyed everyone who was with the CasaBlanca along with the fans who came," she said. "The people in the CasaBlanca Showroom were wonderful to work with and they were so supportive. They were very professional and we very much appreciate their efforts."
McKay added that she was in contact with a performing arts council which had expressed interest in taking a jazz festival to Southern Utah.
"I really believe the Mesquite engagement opened some doors for our people," said McKay, who brought four bands to the city for the festival."
McKay, who has been working jazz festivals since 1994, said a special jam session drew four jammers playing clarinet, coronet, tuba and Banjo.
"The bands made them feel so comfortable," said McKay. "They had a blast."
Further information regard McKay's jazz festivals can be found by visiting http://www.jazznuts.com/jazzbbcru.html.
The CasaBlanca hosts the Golden Gloves Nationals Wednesday through Saturday in the Event Center; and will follow with the BPONG.COM hosts The Return to Mesquite; a $10,000 World Series of Beer Pong Mega Satellite Event July 29-31.
###