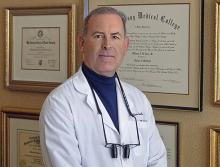 Albany, NY (PRWEB) July 20, 2011
At DeLuca Plastic Surgery, Albany, NY, women considering breast augmentation are now enjoying the benefits of a brand new 3D photo simulation technology called e-Stetix© 3D Mammo. By providing 3D Mammo, Dr. William F. DeLuca, Jr., plastic surgeon, Albany, NY, now has the ability to show women interested in breast enlargement surgery, not only what they can expect to look like after surgery but also the effect that different types of silicone and saline implants will have on the shape and size of their breasts.
Is e-Stetix 3D Mammo another plastic surgery simulator based on basic photo morphing?
No – e-Stetix employs the most advanced 3D simulation technology for plastic and aesthetic surgery, which takes into account the physical properties of the body. Developed in collaboration with the world's most renowned university research centers in biomechanics, surgical technology, 3D and information technology, e-Stetix generates extremely precise and realistic 3D simulations and replicates the reactions of the different parts of the body (skin elasticity, muscles, fat, etc.) in the context of a surgical procedure. With the e-Stetix© 3D Mammo photo simulator for breast augmentation, Albany, NY women can now obtain an accurate representation of what they will look after surgery because the 3D reconstruction technology is based on purely scientific predictions that can simulate the insertion of implants in a realistic and accurate manner.
To generate a 3D simulation of a patient's "before" body, Dr. DeLuca takes several required measurements and 3 digital photographs. Next, Dr. DeLuca selects several different implant styles and sizes based on the goals of the patient and what his 26 years of breast surgery experience informs him will look the best, positions them onto the digital 'before body. In less than 30 seconds, a remarkably accurate three-dimensional "after" image is generated that can be rotated to show what the patient will look like from almost any angle.
Both the surgeon and patient will be able to see closely approximate surgical results and visualize, like never before, the best possible implant size, shape, and location. Given DeLuca's reputation as being a first rate breast augmentation specialist and one of the region's most sought after plastic surgeons, it will be interesting to see how much of an impact the addition of photo simulation technology has on patients interested in the procedure.
The e-Stetix© 3D simulation technology currently only works for breast augmentation, but may be available in the future for other procedures, including breast lift, liposuction, and rhinoplasty.
A picture that's worth a thousand words
For the first time, both physician and patient can take a glimpse into the future. During the consultation, the patient can see and select from the many options and possible results. With e-Stetix©, the patient can now clearly communicate her wishes and questions, using her own simulated body, and the physician can help the patient see, in real time, a far more realistic view of the expected results.
Using the 3D imaging can be very helpful to certain patients, according to Dr. DeLuca. "At our practice, we operate under the mantra that 'every breast is different.' This means that each patient needs to have her procedure tailored to her own body shape and build. The technology takes some of the guesswork out of this popular surgery, allowing me to more clearly demonstrate effect different implant profiles, shapes and sizes will have on the final outcome to each patient who comes through our doors."
"I have found that more women who are considering surgery," continued Dr. DeLuca, "choose to follow through after seeing what they will look like. These are not guesses, but rather real images of the patient's own body and measurements. The technology is impressively accurate, and I am confident in the benefits it will provide my patients."
"If this innovative and insightful tool helps even a small percentage of my patients walk out of the office feeling more informed and confident about their options for breast surgery, I'll consider this investment well worth the cost." And statistics show that Dr. DeLuca is right. The technology for this imaging system debuted in Switzerland, and a study between November of 2007 and February of 2010 showed that 90% of women preferred a surgeon using the 3D simulator over a surgeon using standard methods to approximate their post-surgical breast augmentation results (i.e. bra & sizers).
For more information on breast augmentation, Albany, NY plastic surgeon Dr. William F. DeLuca, invites you to visit his website at http://www.delucaplasticsurgery.com or contact his office at 518-724-2444 or DeLuca Plastic Surgery, 711 Troy Schenectady Rd, Suite 123, Latham, NY 12110.
About William F. DeLuca Jr. MD
Dr. DeLuca is a board certified plastic surgeon with over 26 years of experience who specializes in breast augmentation. Albany, NY women who visit his cosmetic clinic cite his technical expertise, portfolio of results and commitment to 24/7 care both before and after surgery as the primary reasons for choosing him as their surgeon. With the introduction of 3D photo simulation technology into his breast enhancement consultation experience, Dr. DeLuca hopes that showing his patients what they will look like before and after their plastic surgery will help them make the most informed and ideal decision possible.
Dr. DeLuca was board certified by both the American Board of Surgery in 1983 and the American Board of Plastic Surgery in 1987. Dr. DeLuca is also a member of the American Society of Plastic Surgeons (ASPS), the American Society for Aesthetic Plastic Surgeons (ASAPS) and a Fellow in the American College of Surgeons (FACS).
###