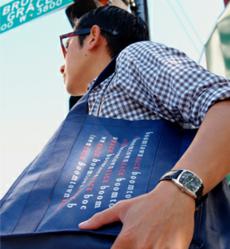 The lifeblood of our economy is local business and we're doing our part to ensure that independently-owned local businesses continue to flourish
Chicago, IL (PRWEB) July 19, 2011
Boomtownrack.com is positioned as a Chicago area portal for independent local businesses. They are interested in combating the chain store mentality and ensuring the survival of local merchants. Dealing specifically with apparel stores in Chicago neighborhoods, Boomtownrack hopes to scale their local product search model to include various items in many large cities.
The only way to preserve local business is to mobilize consumers and that's what Boomtownrack.com is all about.
Boomtownrack LLC, is proud to announce that they will be delivering apparel to Chicago area residents in specific Chicago neighborhoods the same day an order is placed via a courier service. With the release of their new video "Boomtownrack delivers your night" and by driving customers via platforms such as Facebook, Four Square, Twitter, and others, a number of new patrons have flocked to the website to take advantage of the unique local shopping experience.
"The lifeblood of our economy is local business and we're doing our part to ensure that independently-owned local businesses continue to flourish," states Keon Cummings, of Boomtownrack LLC.
With plans of continuing to bring patrons and businesses from all Chicago area neighborhoods together, Boomtownrack.com's growth as a trusted Chicago local business portal and resource is expected to increase incrementally over the next 12 months.
About Boomtownrack
Born out of the love of and pride in the city of Chicago, the Boomtownrack.com portal was conceived as a way to promote and celebrate independently-owned local Windy City businesses in an online setting. The online destination harmonizes various Chicago area neighborhood stores and boutiques, and presents them in one online destination. Utilizing approaches such as social media, and hyper local search, Boomtownrack.com is doing its part to ensure Chicago consumers buy and frequent local establishments.
###