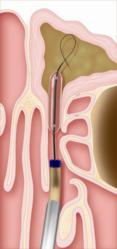 "Balloon Sinuplasty is a safe, minimally invasive, and effective way to help those who suffer from sinusitis. The procedure is so quick it is even possible to do it in a clinic setting rather than the hospital." Dr. Hinsley, physician at SWENT
Santa Fe, NM (PRWEB) July 19, 2011
Southwestern Ear, Nose & Throat Associates (SWENT) announces the availability of Balloon Sinuplasty, a new procedure that has been shown to help patients who suffer from chronic sinus conditions. Over 100,000 patients nationwide have had the procedure since it was approved by the FDA in 2005. SWENT will now offer Balloon Sinuplasty in the clinic's on-site surgery center, allowing patients the ease and efficiency of sinus relief without invasive surgery and hospitalization.
Sinusitis affects 37 million people each year, making it one of the most common health problems in the U.S. It is more prevalent than heart disease and asthma and has a greater impact on quality of life than chronic back pain or congestive heart failure. Consistent problems such as post-nasal drip, coughing and bleeding reduce quality of life whether affecting job performance, time spent outdoors, or the ability to exercise.
Medical options for the debilitating and painful symptoms of sinusitis include antibiotics, nasal sprays and saline nasal rinses. These methods are often successful, but about 20% of patients don't respond to treatment. Endoscopic sinus surgery, which enlarges the sinus opening by removing bone and tissue, is an option when medicine fails. However, the post-operative course can be very painful; it is often necessary to pack the nose in order to stop bleeding and help with healing.
Balloon Sinuplasty technology is a less invasive procedure that utilizes a small, flexible, sinus balloon catheter that is placed into the nose to reach the sinuses. The sinus balloon catheter is gradually inflated to gently restructure the previously blocked nasal passage, maintaining the integrity of the sinus lining and restoring normal sinus drainage and function. There is minimal bleeding, and many patients have been able to return to normal activities within 24 hours. Clinical research has indicated that the Balloon Sinuplasty system is a safe and effective tool in dilating blocked sinuses.
"Balloon Sinuplasty is a safe, minimally invasive, and effective way to help those who suffer from sinusitis. The procedure is so quick it is even possible to do it in a clinic setting rather than the hospital, and we can often avoid the uncomfortable post-operative packing," stated Dr. Matthew Hinsley, physician at SWENT. "We are pleased to be able to offer this service to the greater Santa Fe community and to bring some much needed relief to people with chronic sinus infections."
Located in Santa Fe, Southwestern Ear, Nose & Throat Associates was founded in 1986 and has satellite locations in Los Alamos, Espanola, and Las Vegas, NM. Known for comprehensive ear, nose and throat care, SWENT features centers in audiology and hearing aids, sleep disorders, allergies, and same day surgeries - the only all-inclusive office of its kind in New Mexico.
For more information about SWENT, visit: http://www.swentnm.com or contact them here:
1620 Hospital Dr.
Santa Fe, New Mexico
87505
Phone: (505) 982-4848
Fax: 505 984-1149
For press inquiries, please contact:
Megan Perkins
JLH Media
megan(at)jlhmedia(dot)com
(505) 670-8258
http://www.jlhmedia.com
###