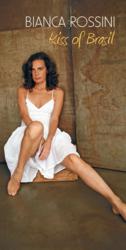 "I listen to Bianca's 'Kiss of Brasil' every day" -- Jimmy Webb
Beverly Hills, CA (PRWEB) July 19, 2011
Bianca Rossini is captivating the hearts and minds of North America as more than 50 U.S. Jazz stations are playing daily every song on her breakout album, "Kiss of Brasil." Since the launching of the album in March, this California-based Brazilian singer/songwriter's "Kiss of Brasil" has been growing steadily in popularity. "Kiss of Brasil" has been on the top charts of CD Baby's Bossa Nova, Brazilian Jazz and Latin categories for the past 16 weeks, and is now featured on Pandora Radio (80 million listenners) in high rotation on top Bossa Nova channels including Antonio Carlos Jobim, Bebel Gilberto, Nara Leão, and The Bianca Rossini Channel. Bianca sings mostly in Portuguese, which makes "Kiss of Brasil's" diverse popularity in the U.S. quite rare.
"It's extraordinary, that not only is 'Kiss of Brasil' Bianca's debut album, but she is singing in Portuguese and making a huge impact in the predominantly English-speaking U.S. market – generally unheard of for a foreign laguage album," said Jason Gorov, President of Gorov Music Marketing (Sade, Dave Koz, Beyonce), a leading Smooth Jazz promotion company based in Las Vegas, NV. Gorov added, "'Kiss of Brasil' is being featured at radio stations throughout the U.S, and like Memphis' WUMR U92 FM, KQXT/San Antonio, TX and KJZY/Santa Rosa, CA—where they've played every track of "Kiss of Brasil" as featured best Jazz Album of the Week. Many other U.S. stations have done special features on "Kiss of Brasil" like KBCS 91.3FM, Bellevue, WA, as well as more than 10 radio stations internationally including JazzNet247.com in Austria, ES RTVE Radio3/Madrid, Spain, Best Smooth Jazz/London, England. The popularity of Bianca's "Kiss of Brasil" is not surprising since Bianca's vocals and melodies are highly addictive and she takes listeners on such a beautiful journey."
"I listen to Bianca's 'Kiss of Brasil' every day!" said Grammy Award-winning singer/songwriter and Bianca Rossini fan Jimmy Webb ("By the Time I Get to Phoenix," "Wichita Lineman," "Galveston").
Given how quickly "Kiss of Brasil" has been accepted into the daily playlists of Jazz stations across the country, Bianca's unique style is starting to take hold as a front-runner in the Cool Jazz/Bossa Nova movement in the U.S. as the "Mais Nova Bossa Nova" (The Newer Bossa Nova).
"The Jazz Lover Family has an everlasting love for Bianca's 'Kiss of Brasil.' You can't help but be seduced by the oh-so-sexy lilt of Bianca's voice," said Malvin Massey, Jr., General Manager of Memphis Radio Station WUMR. He continued, "Bianca's music takes you back to the days of Jobim, Getz & Gilberto, Toquinho, and Vinicius de Moraes when Bossa Nova was king. When listening to "No Silencio da Noite," "Ipanema Paraiso," you envision being singled out and serenaded by Bianca, live and in person. It's just magical! Bianca Rossini's 'Kiss of Brasil' will live for a very long time."
Bianca's lyrical stylings in "Kiss of Brasil" are sensual, romantic and intimate, much like her poetry in her critically acclaimed third book, "Love in Black and White," (Nazraeli Press, 2009), in which she partnered with world-renowned photographer Michael Kenna. Bianca explained, "'Kiss of Brasil' is the result of a collaboration with a magical, all-star ensemble cast of co-writers." Produced by Peter Roberts, Bianca's co-writers are Jazz notables: Marilyn Berglas, Harvey Mason, Peter Roberts, Ken Hirsch, Steve Rawlins and Patrick Lockwood. "Kiss of Brasil" include performances by Grant Geissman, Jimmy Roberts, Grecco Buratto, Roberto Montero, Marco Tulio, and Sandro Feliciano. This week "Kiss of Brasil" begins distribution in Brazil through Onerpm which distributes to many of the top Brazil and South American digital stores and cell phone companies. In addition, "Kiss of Brasil" is now being distributed by Octet Records in Japan. "Kiss of Brasil" is also available on iTunes, Amazon and CD Baby.
About Bianca Rossini
At the forefront of Los Angeles' current wave of Brazilian music and becoming a significant voice in Brazilian music is Rio de Janeiro-born, Los Angeles-based Bianca Rossini, renowned for her sensuous performances of Bossa Nova, Samba and Bolero. Her multi-faceted career includes feature film and television acting roles opposite stars including James Spader, Hector Elizondo, Richard Dreyfuss, Christian Slater, Dick Van Dyke and Dom DeLuise. Bianca also appeared in movies "Moon Over Parador," "The Fast One," "Brainiacs," "Mobsters," and "Bad Influence." She has composed music for TV series "The Sentinel" and "Chicago Hope." She produced and hosted more than 100 episodes for weekly Los Angeles TV talk show, "The Bianca Rossini Show," and has authored three books: "Love in Black and White" with photographs by Michael Kenna, Bilingual Edition (English/Portuguese) "A Brazilian Heart - Rubies, Murder Love and Other Poems," and "Julia - Confessions of a Brazilian Super Model." "Kiss of Brasil" is Bianca's debut all original Bossa Nova album.
Media Contact:
Denise Dorman
P: 630.845.4694
C: 630.215.5623
E: contactbiancarossini(at)gmail(dot)com
W: http://www.biancarossini.com/
###