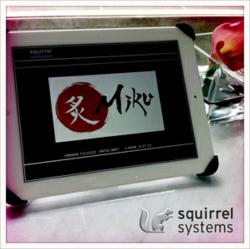 The iPads work very well as standalone units, and are of course much sleeker and more compact than our previous POS terminals.
Vancouver, BC (PRWEB) July 20, 2011
Squirrel Systems, a pioneering point of sale technology provider to the hospitality industry, has announced that Miku Restaurant recently implemented the Squirrel Professional POS system on the Apple iPad in its location in Vancouver, Canada.
"There are many POS systems out there, but the system we are looking to create is Miku-specific. We selected Squirrel for its efficient, customizable POS system that streamlines service and assists Miku Restaurant in developing a true guest-driven environment," said George Katagai, CEO and President of Miku Restaurant. Another location is projected to open in Los Angeles and Mr. Katagai continued, "We will be using the Squirrel POS software and Apple hardware in all of our establishments around North America."
Squirrel Professional for the Apple iPad is easy to use and maintains the aesthetic design of the restaurant; both were factors in selecting the system. According to Gary Hutton, Manager of Miku Restaurant, "From the management team especially, the extremely intuitive manner in which the system can be customized and updated is a welcome relief from our previous system. The iPads work very well as standalone units, and are of course much sleeker and more compact than our previous POS terminals."
Miku Restaurant has also been delighted with the level of local support provided by Squirrel Systems. Feedback from Miku staff has been integrated or implemented almost immediately, which is another advantage over the previous system.
Bob Mackett, President of Squirrel Systems, is pleased to have been selected as the POS provider for Miku Restaurant. Mr. Mackett said, "With their Aburi flame-seared sushi, Miku is certainly familiar with creating an innovative taste experience for their customers. By implementing Squirrel Professional on the Apple iPad, Miku takes the innovation further with a technology solution that enhances the guest experience even more."
About Miku Restaurant
With a big vision and hardly any English, Owner and Executive Chef Seigo Nakamura took his family business of nearly six decades across the world in 2008 with the opening of Miku Restaurant in downtown Vancouver, Canada. Successfully operating eight restaurants in the southern Japanese city of Miyazaki, going international was never an 'if,' but a matter of 'When' and 'Where.' Specializing in beautifully executed Aburi (flame-seared) sushi and entrée dishes, the Miku Restaurant concept has fit in to the city's flair for multicultural cuisine and healthy living. Miku has quickly grown a reputation amongst local foodies and its unprecedented success inspires Seigo to continue international ventures to share his passion for food and people. A second international location in Los Angeles, California is planned. For more information, visit mikurestaurant.com.
About Squirrel Systems
Squirrel Systems, the point of sale pioneer, is proud to be celebrating 27 years as a technology provider to the global hospitality industry. In 1984, Squirrel revolutionized the industry with the first touchscreen restaurant POS system. Over the years, Squirrel introduced advancements such as integrated credit card authorization through the POS and native Microsoft SQL Server databases for real time data access. This spirit of innovation and success continues today with award-winning and customer-focused products like Squirrel Professional, Squirrel in a Box, Squirrel in a Box for Hotels, and Squirrel Mobility, as well as unparalleled support programs such as Squirrel EasyCare, Squirrel SmartWatch, and Squirrel DataStore. Squirrel is a Microsoft Gold Certified Partner and offers solutions that meet the highest level of Payment Card Industry validation, PA DSS. For more information, visit squirrelsystems.com.
# # #