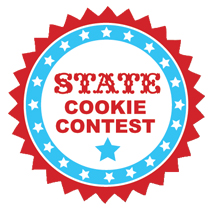 "We want every state to be just a bit sweeter and this was the perfect way to make it happen. The BHG cookie sheets received great reviews by our bloggers and the final products all look delicious."
- Elise Contarsy, Vice President of Brand Licensing
Des Moines, IA (PRWEB) July 20, 2011
Every state has an official flower, flag and even a tree… so why not a cookie? That's the question Better Homes and Gardens (BHG), with the help of 50 bloggers from every state in the USA, hopes to answer with its State Cookie Contest. Using BHG branded bakeware, available exclusively at Walmart, each blogger was challenged to create a cookie that they feel best represents their home state. The contest, which lives on the BHG Live Better Facebook page, began on June 30 and will end on July 27. Fans of the page can vote for their favorite cookie and the blogger with the most votes will get a full set of bakeware to give away on their blog.
1. Alabama Football Cookies
2. Alaska Big Dippers
3. Arizona Saguaro Cactus Cookie
4. Arkansas Dark Chocolate Pecan Cookies
5. California Golden State Avocado Walnut Date Cookies
6. Colorado Columbine Cookies
7. Connecticut Spice Cookies
8. Delaware State Sugar Cookie
9. Florida Orange Sunshine Cookie
10. Georgia Peach Pie Cookie
11. Hawaii Delight Cookies
12. Idaho Potato Gems
13. Illinois Abe Lincoln Hat Cookie
14. Indiana Pumpkin Basketball Cookies
15. Iowa Raspberry Cornflake Cookie
16. Kansas Somewhere Over the Rainbow Cookie
17. Kentucky Derby Cookies
18. Louisiana Beignets and King Cake
19. Maine Blueberry Whoopie Cookies with Lemon Blueberry Filling
20. Maryland Crabby Susans
21. Massachusetts Boston Cream Pie Cookies
22. Michigan Crispy Fudge Cookie Bars
23. Minnesota Chewy Surprise
24. Mississippi Mud Sandwich Cookies
25. Missouri Cardinals Cookie
26. Montana Monster Cookies
27. Nebraska Kool-Aid Cookie
28. Nevada Poker Chip Cookies
29. New Hampshire White Mountain Chocolate Chip Maple Snicker Doodles
30. New Jersey Berry Jersey Cookie
31. New Mexico Biscochitos
32. New York State Apple Cookie
33. North Carolina Sweet Potato Pie Sandwich Cookies
34. North Dakota Honey Rhubarb Cookies
35. Ohio Buckeye Cookie
36. Oklahoma Strawberry Cookie
37. Oregon Chocolate Chunk Hazelnut Cookie
38. Pennsylvania Ben Franklin Tricorn Hat Treasures
39. Rhode Island Ocean State Cookie
40. South Carolina Sand Dabs
41. South Dakota Black Hills
42. Tennessee Frosted Orange Pecan Cookies
43. Texas Pecan Cookies
44. Utah Beehive Cookie
45. Vermont Chewy Maple
46. Virginia Chocolate Cherry Cookies
47. Washington Chocolate Filled Raindrops
48. West Virginia Caramel Apple Raisin Cheese Cake Cookie Bar
49. Wisconsin Quarter Cookie
50. Wyoming Cowboy Cookies
"We want every state to be just a bit sweeter and this was the perfect way to make it happen. The BHG cookie sheets received great reviews by our bloggers and the final products all look delicious. Though I am partial to my home state, New York," said Elise Contarsy, vice president of Brand Licensing for BHG.
BHG's bakeware line debuted in late 2010 and has been making taste buds happy ever since. With its unique, non-stick triple performance grid and comfortable silicone handles, it's easy to take in and out of the oven and to clean.
About Better Homes and Gardens
Reaching nearly 40 million readers every month, the Better Homes and Gardens brand extends across the web, tablet, mobile, broadcast, broadband and numerous licensed products, serving and connecting women who are passionate about their homes and the lives they create there. A Meredith publication, Better Homes and Gardens inspires women to dream and gives them the confidence to move from dreaming to doing. For more information, please visit http://www.bhg.com.
###