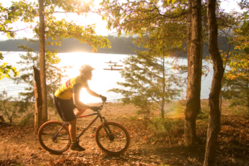 There is potential for Roanoke to become a major outdoor industry center
Roanoke, VA (PRWEB) July 20, 2011
The Roanoke, Virginia Region's numerous outdoor amenities provide a strong foundation for growth in outdoor-related businesses, according to a new analysis comparing the area to other regions known for their outdoor lifestyle.
The study found that the region ranked highly in concentration of greenway trails, public recreational land, square footage of lakes and other assets, setting the stage for growth in outdoor businesses looking to grow around hiking, biking, paddling and other activities.
This first-ever study, conducted earlier this year by the Roanoke Regional Partnership with assistance from the Roanoke Valley-Alleghany Regional Commission, was commissioned to determine the breadth of the region's outdoor economy and the overall competitiveness of its mix of amenities and outdoor offerings.
The benchmarking study includes Asheville, N.C., Greenville, S.C., Boulder, Colo., Chattanooga, Tenn., and Portland, Maine. The results show Roanoke on par with Asheville, Boulder and Chattanooga, with Portland ranking the highest.
While the Roanoke Region's outdoor amenities ranked high, the study found opportunities for entrepreneurs and existing outdoor businesses looking to capitalize on its growing outdoor brand.
"Overall, this study indicates we have a strong base to build upon and there may be significant potential for further business growth," says Pete Eshelman, director of outdoor branding for the Roanoke Regional Partnership.
While researching the data, study authors say the Roanoke Region is ahead of competing markets when it comes to inventorying and measuring its base of amenities.
While inventories of trails, campgrounds, and other assets can be almost impossible to find in many communities, the Roanoke Region has invested in an online resource for the outdoors, http://www.RoanokeOutside.com, and regularly reports data on the usage of amenities and important metrics like mileage of trails in the region in its annual economic metrics program.
"There is potential for Roanoke to become a major outdoor industry center," Eshelman says.
Some other findings in the study:

The Roanoke Region's cost of living is 8.5 percent below the national average and the lowest of the communities in the analysis, which indicates cost advantages in lodging, dining and other services catering to the outdoor community.
Roanoke was tops in running events. With the Blue Ridge Marathon, numerous half-marathons and an abundance of trail runs, the region scored highest in races per 1,000 people.
Roanoke ranks third in total outdoor-related events, including cycling races, running events and fishing tournaments.
Roanoke was second only to Asheville when it comes to public recreational land within 50 miles on a per-capita basis.
Roanoke is third in per-capita cycling events and the resurgence in cycling is increasing the Roanoke Region's competitiveness among its peers. On a per-capita basis, however, Roanoke has fewer bike shops than four of the comparison communities.
Roanoke was ranked second next to Boulder in per-capita mileage of greenway trails.
Roanoke ranked fourth of six in number of dog parks.
Despite the presence of Smith Mountain Lake and numerous rivers, the Roanoke Region has fewer fishing tournaments, coming in next to last in the study.
The Roanoke Region has relatively fewer companies engaged in the outdoor industry. Roanoke's percentage of firms involved in the outdoor industry was 0.7 percent. The Roanoke Regional Partnership is actively courting members of the Outdoor Industry Association.
The Roanoke Region was relatively weak in terms of the proportion of its employment in the outdoor recreational industry. Roanoke's percentage of outdoor employment was .49 percent of overall employment – compared to 1.06 percent in Asheville.
More details are available in the full report, available at: http://www.tinyurl.com/outdoorbenchmark.
ABOUT ROANOKE REGIONAL PARTNERSHIP
The Roanoke Regional Partnership markets Alleghany, Botetourt, Franklin and Roanoke counties, Roanoke, Salem, and Vinton to new and expanding industry. Since 1983, the Partnership has assisted expansions and locations representing $1.3 billion in new investment and nearly 14,000 direct new jobs in the region. To learn more, visit http://www.Roanoke.org, http://www.RoanokeOutside.com and http://www.RoanokeEntrepreneur.com.
###