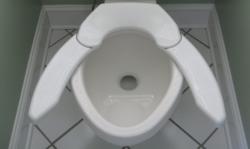 ...is one of the most innovative toilet aids we've seen available!
Scottsdale, AZ (PRWEB) July 19, 2011
Designed with comfort, support, relaxation and improved health in mind, the Adjust for Comfort Toilet Seat adjusts to each user's natural sitting position. When seated, the expandable seat arms can be adjusted outward to provide up to 12 inches of additional width and support for easier access and improved personal hygiene. Made of solid polypropylene with stainless steel hinges, it supports up to 1,000 pounds and is capable of supporting EVERYONE comfortably.
This innovative toilet seat was created by a 285 pound, 75 year old man with numerous health conditions searching for a comfortable toilet seat for his own bathroom. When he realized his "perfect toilet seat" didn't exist, he spent the next several years designing and testing prototypes. The Adjust for Comfort Toilet Seat combines the best features of all those previous attempts, and is truly a unique toilet seat providing superior comfort and function. Not only incredibly comfortable, while in use this seat helps increase your body's circulation and improve posture.
According to the Centers for Disease Control and Prevention, the average American is twenty five pounds heavier now compared to 50 years ago, which makes this the perfect toilet seat for every home. With two thirds of Americans being considered overweight and an aging baby boomer population, the Adjust for Comfort Toilet Seat can easily transition between being a standard toilet seat and a bariatric use product for users with limited mobility or just needing the added support that no other seat can provide.
About ActiveForever
ActiveForever.com is a top national eRetailer, Retailer, Print Publisher & Warehouse/Distributor of Medical Equipment, Safety & Productivity Supplies, Physical Conditioning, Healing Devices and other Occupational Health Equipment. The company is well known for its ability to invigorate, market and sell innovative product lines and its ability to keep healthcare providers and consumers abreast of the latest product innovations available to help treatment & conditioning outcomes.
Print Catalogs: Free for care providers to share with their patients, therapists, residents and caregivers anywhere in the country!
FOR IMMEDIATE RELEASE
Media Contact: Kate Harvey
Email: Media(at)ActiveForever(dot)com
Direct: 480.459.3200
###