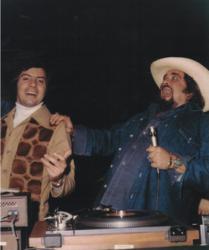 The man behind the legend of the Hyatt on Sunset was Dennis P. Rizzo, a young Marine just returned from a tour in Vietnam, who had the vision to turn the hotel into something special
Los Angeles, CA (PRWEB) July 19, 2011
While preparing a tribute to Dennis P. Rizzo and Bentley Price Associates, Don Kelley, President of Don Kelley Organization, has uncovered some previously unpublished photos and video of a legendary time in Hollywood. In the 1970s, Hollywood and the Sunset Strip were magnets for "larger-than-life" rock bands and other artists. The legend of the Hyatt House On Sunset – also known as "The Riot House" because of the antics of the rock bands who stayed there – still calls to mind incidents like the legendary Led Zeppelin throwing TV sets out of the hotel's windows and room service carts being used for "Horse Racing" up and down its hallways. Although Led Zeppelin could have stayed at a more luxurious hotel in Los Angeles, they chose the Hyatt House because they preferred it.
The man behind the legend of the Hyatt on Sunset was Dennis P. Rizzo, a young Marine just returned from a tour in Vietnam, who had the vision to turn the hotel into something special. At 23, Rizzo was the youngest Resident Manager in the history of the Hyatt chain. His street smarts, combined with his rigorous U. S. Marine approach to life and business launched the hotel into the annals of hospitality history.
Don Kelley, personal manager behind such greats as Wolfman Jack, and a close personal friend of Dennis P. Rizzo, decided to undertake a search for the "lost files" of photos, 8mm film and videos of Rizzo during his early years at the Hyatt House for a 35th anniversary tribute for Rizzo's hospitality executive search firm, Bentley Price Associates, Inc.
Kelley knew that they existed somewhere, but during the past 35 years Rizzo had moved around often and worked with several hotels, resorts and gaming properties and the materials had seemingly disappeared. An exhaustive search led Kelley to a treasure trove of visual material with Dennis P. Rizzo in behind-the-scenes settings at one of the greatest hotels of all time – the rock 'n' roll years at the Hyatt House on the Sunset Strip!
Rizzo's particular approach was not so much unorthodox as inventive; he made the Hyatt stand out by injecting new life into the property. Re-decorating floors one at a time on recording artists' credit cards, while focusing other floors on the fashionista/rock star sets-of-the-day, brought challenges at all hours. He understood the need for acting on his feet, because he had learned from the best: The United States Marine Corps.
Those heady days remain the subject of stories over dinners in high-powered Las Vegas rooms to this day. Dennis P. Rizzo has placed the biggest and brightest in the casino and hospitality business all around the world. His recruits get together with Dennis regularly to share stories and insights about the hospitality management and executive search business