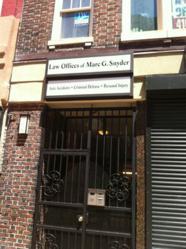 Our goal is to provide what little help we can...at no cost to those who need it.
Baltimore, MD (PRWEB) July 19, 2011
The Law Offices of Marc G. Snyder proudly announces the firm's first Free Legal Clinic, concentrating on issues involving the Maryland criminal law system. To be held on one Saturday every month in the firm's Baltimore City location, the free clinic will provide an open forum where those who attend can voice their questions and concerns and have them addressed in an open, non-threatening environment. Mr. Snyder, a former Baltimore City Prosecutor and current Baltimore criminal defense attorney will open his doors to all Maryland residents facing issues that involve the Maryland criminal justice system. By making this event completely free, the firm hopes to provide assistance to those individuals whose access to such services have historically been very limited.
"Unfortunately, the income level required to be represented by a public defender's office is so low that many people who make next to nothing still make too much to qualify. At the same time, such low income makes hiring a private criminal defense attorney unrealistic. Our goal is to provide what little help we can, on an informational basis, at no cost to those who need it."
The free Clinic will be open one Saturday every month for approximately five hours each time. The firm hopes to welcome neighbors of their office who simply walk in off the street, as well as those who travel a distance to take advantage of this opportunity. The downtown location is at 229 N. Howard Street, Suite 201, Baltimore, MD 21201, across the street from the historic Lexington Market. This month's clinic will begin at 2:00pm on July 23, 2011.
Everyone attending the Legal Clinic will receive free copies of Mr. Snyder's books, "A Client's Guide to the Arrest Process in Maryland," and "How to Find the Right Criminal Defense Lawyer For You."
"Our goal is really very simple: we want to get helpful information into the hands of those who need it but for various reasons, have been unable to find such help. We are not trying to save the system, but when you can do some good and it won't kill you, I think we are obligated to do what we can."
Marc G. Snyder is a Baltimore Criminal Defense Attorney and Maryland Personal Injury Attorney with offices in Pikesville and Downtown Baltimore, Maryland, as well as a satellite office in Ocean City, Maryland. Mr. Snyder has practiced law in Maryland since 1997, for many years with his father, Stephen L. Snyder, and later for the Baltimore City State's Attorney's Office. Mr Snyder founded his own private practice in 2007.
###