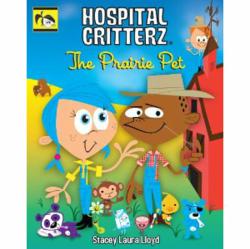 (PRWEB) July 19, 2011
Strategic Partners is passionate about creating a friendlier environment in the healthcare workplace. With the creation of the Tooniforms Scrub line, the Cherokee Inspired Comfort Award, the Nurse I Am Film and Scholarship program, Scrubs Magazine and now the Hospital Critters series of books, Strategic will definitely receive an "A" for effort.
The Hospital Critterz series of adventure books is designed to help children feel more at ease in a healthcare setting. The series will entertain, encourage, and let children's imaginations soar. The author of the book is Stacey Laura Lloyd, who has won numerous writing awards.
Hospital Critterz is geared towards children ages 7-12, the book has already received rave reviews from nurses, librarians, children, and parents, it has also been featured on HelathRadio.net, The New York Journal of Books and discussed on the CBS daytime talk show "The Doctors".
These books are a must have for parents to educate their kids to office counter tops. Scrub Couture is an authorized distributor of this series as well as other Strategic Partners brands such as ADC, Anywear Footwear, Baby Phat Scrubs, BooJee Beads, Cherokee Uniforms & Footwear, Dickies Medical, K-Swiss Footwear, Littmann Stethoscopes, and Skechers Uniforms.
###