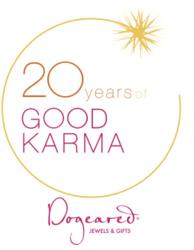 This necklace is a celebration of Dogeared's 20 year journey, of all of the great people who've become part of this circle, and everything we've created.
Los Angeles, CA (PRWEB) July 20, 2011
Dogeared Jewels & Gifts is celebrating their birthday and 20 Years of Good Karma with a Limited Edition Good Karma Necklace, to be presented at select August trade shows with their new line. The commemorative necklace joins many other designs supporting Karma in Action, the Dogeared giving program that launched earlier this year. Together these pieces benefit four nonprofit organizations working on health, educational, and environmental initiatives. In addition, portions of proceeds from the company's best-selling Karma collection have been pledged to these organizations. (See below for list of partners.) These pieces, along with all Dogeared products, are handcrafted in Los Angeles.
The new 20 Year Limited Edition Good Karma features a lotus blossom within a Karma circle, symbolic of Karma in Action. "This necklace is a celebration of Dogeared's 20 year journey, of all of the great people who've become part of this circle, and everything we've created," commented Dogeared founder and designer, Marcia Maizel-Clarke. "It's about looking forward to exciting new possibilities, and looking back on an extraordinary 20 years. This necklace brings all of these things to light."
Good Karma and Giving Back are the fundamental values upon which Dogeared was founded: each year new pieces of jewelry are designed to benefit organizations sharing a vision of a better world. Quickly becoming a best-selling category, these jewels symbolize what the company stands for, what customers expect, why they choose Dogeared for gifts, and why retailers include them in their merchandise mix. Jewelry that communicates a positive message and is a source of good energy is the authentic soul of Dogeared.
One Voice and Girls Learn International benefit from the Hopeful Heart and Learning to Fly necklaces. Dogeared has supported the work of One Voice since the company was founded, each year creating a new limited edition heart charm and necklace. This is the first year that Dogeared has committed resources to Girls Learn International for its efforts to provide access to education to girls around the world. The necklace's butterfly charm symbolizes transformation and celebration, appropriate to the organization's mission of helping the world advance through the participation of more educated girls and women.
Dogeared supports Stand Up To Cancer through sales of their new Make a Wish Hope ribbon pin, which joins the necklace released last year with the organization's arrow logo. "We have always worked with amazing organizations that are part of the fight to end cancer," continues Maizel-Clarke. "With Stand Up To Cancer, we were inspired to create a new piece, our Make A Wish Hope pin, as a gesture of support. At a lower price point, it continues our Make A Wish collection's theme of sharing our wishes, dreams, and energies with the universe and with each other."
Environmentally sensitive business practices have been another Dogeared value since the beginning. The company makes all their products by hand in the USA, uses 100% recycled sterling and other recycled and repurposed materials, and has long supported Heal the Bay. The popular Life's A Beach starfish necklace contributes to their important efforts.
Dogeared's Nonprofit Partners
One Voice: In addition to their Scholar's Program, Los Angeles-based One Voice offers Family Relief and Holiday programs, supplies mentoring and awards scholarships to inner-city kids who dream of attending college, and helps thousands of local families living in poverty. Dogeared has worked with One Voice for each of the 20 years they have been in business, contributing people and resources to support and further programs and activities. http://www.onevoice-la.org
Girls Learn International is leading the movement to educate girls around the world. By forming partnerships between American schools and schools in places where girls are traditionally denied education, they create opportunities for girls everywhere. http://www.girlslearn.org
Stand Up To Cancer is forging new ways to develop breakthroughs that will end cancer. Bringing together the best and the brightest minds in cancer research, investing in projects, and removing bureaucratic obstacles, SU2C has selected Dogeared to produce jewels for this movement. http://www.standup2cancer.org
Heal the Bay: Dogeared has been a long time supporter of Heal the Bay and its mantra: "When we heal the earth we heal ourselves." Heal the Bay fights to make Southern California coastal waters, including Santa Monica Bay, and its watersheds, safe, healthy and clean. http://www.healthebay.org
Dogeared is celebrating its 20th birthday by increasing its commitment to these nonprofit partners, expanding the circle, maximizing their impact, and putting Karma in Action!
TRADE SHOWS
New York ENK Accessorie Circuit Show
Jacob Javits Convention Center
11th Avenue @ 37th Street
New York City
Booth #7738
July 31 - August 2, 2011
LA Market
Kristi Harris Sales
Cooper Design Building
860 South Los Angeles
Suite #640
August 8-10, 2011
New York International Gift Fair
Jacob Javits Convention Center
11th Avenue @ 37th Street
Booth # 8101
August 14 - 18, 2011
Project Las Vegas
The Mandalay Bay Convention Center
Booth #TBA
August 22 - 24, 2011
Dogeared Jewels & Gifts
Designer Marcia Maizel-Clarke founded Dogeared Jewels & Gifts 20 years ago in Southern California. Originating word jewelry, she began creating beautiful pieces with the purpose of putting positive, peaceful, and loving energy into the world. This energy has always included being kind to the planet, handcrafting all the jewels and gifts in California, and working with nonprofit organizations sharing Dogeared's vision of a better world. Dogeared's unique, custom-cast jewels are regularly featured in fashion, lifestyle, and celebrity publications, in films and on television shows. Trendsetting retailers around the world, including Nordstrom, Neiman Marcus Cusp, Bloomingdale's, Fred Segal, and ABC Home, all carry Dogeared. Please visit http://www.dogeared.com for Dogeared's online flagship store. For wholesale information, visit http://www.dogearedwholesale.com.
###