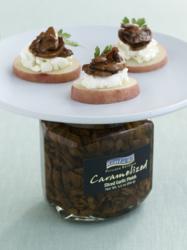 Bellevue, WA (PRWEB) July 20, 2011
GarLic it! Caramelized Garlic Finnish was named Outstanding New Product of 2011 in the 39th sofi™ Awards competition from the National Association for the Specialty Food Trade, Inc. The sofi Awards recognize excellence in specialty foods and beverages and are a coveted industry honor. "sofi" stands for Specialty Outstanding Food Innovation.
The Caramelized Garlic Finish was selected by a national panel of specialty food experts from a record 2,236 contenders across 33 Awards categories. Gold Winners were announced at the 57th Summer Fancy Food Show in Washington, D.C., at a red-carpet ceremony hosted by Celebrity Chef Cat Cora
"This is a real honor to be recognized by a distinguished organization for innovation," said LLance Kezner. "Customers love the deep and rich taste of this product. We hope this can catch on as a new garnish trend for our economic times." Kezner, a former software sales executive, founded GarLic it! with his wife Lori in 2009. Their products include triple-blanched garlic finishes, caramelized garlic finishes and garlic dipping oils and are available at Whole Foods, Kroger and at http://www.garlicit.com.
The sofi Awards are open to members of the NASFT, a not-for-profit trade association established in 1952 with more than 2,700 members throughout the U.S. and abroad. For more information on the NASFT and its Fancy Food Shows, go to http://www.specialtyfood.com and for complete coverage of the 2011 sofi Awards, visit foodspring.com/sofiawards.
"Amid the most competitive year ever for the sofi Awards, the 33 Gold Winners stand out as great examples of the creativity and commitment to quality that are the foundation of the specialty food industry," says Ann Daw, president of the NASFT.
LLance's Contact:
LLance Kezner, 425-999-4894, LLance(at)gmail(dot)com
NASFT Media Contacts:
Ron Tanner, VP Communications & Education; 646-878-0115, rtanner(at)nasft(dot)org
Louise Kramer, Communications Director; 646-878-0130, lkramer(at)nasft(dot)org
###