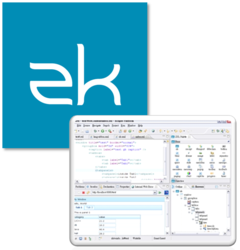 ZK Studio is a popular & powerful visual IDE that introduces users to the most efficient way of developing an Ajax application.
London, UK (PRWEB) July 20, 2011
ZK Studio is a popular visual IDE (Integrated Development Environment) providing intuitive tools that span the entire Java web application development lifecycle. Since its first release in August 2008, ZK Studio has been receiving countless requests and gaining positive reviews from users of the ZK community. ZK studio is an Eclipse plug-in and is now available for download at the Eclipse Marketplace making it super convenient for users to set up their environment.
ZK Studio is an extremely practical IDE designed for the ZK Framework providing ZUL syntax highlight and code auto-complete features introducing users to the most efficient way of developing an Ajax application. Tools are included for UI design, prototyping, development and deployment when implementing ZK applications. By utilising these tools along with ZK, productivity and usability can be further enhanced allowing even greater user experience and lesser development time.
ZK Studio provides content assistance, WYSIWYG (What You See Is What You Get) visual development, hyperlink navigation, variable highlighting, syntax colouring and many other exciting, handy and useful features.
Highlighted features include but not limited to:

WYSIWYG visual development
zscript to MVC Extractor
Intelligent editor
Ajax widget palette
Eclipse integration – Plug-in
Style designer
Project and page wizards
Automatic update manager
Code completion
ZK Library management
As ZK Studio is a plug-in supported by Eclipse, Eclipse must be installed in order to run ZK studio and the recommended version is "Eclipse IDE for Java EE Developers". However, ZK Studio is also supported by the following Platforms:
Eclipse 3.6 - Helios
Eclipse 3.5 - Galileo
Eclipse 3.4 - Ganymede
MyEclipse
IBM RAD 7.5
Spring Tool Suite 2.5.1
About Potix
Potix Corporation develops and supports ZK, the #1 Java based Ajax solution on SourceForge.net, the world's largest open source host. Innovation is the most driving force behind the growing Potix. Potix delivered the first Ajax framework to support Java and Android phones, the first embeddable Ajax spreadsheet, and the first to synergize the power of pure Java, markup and scripting languages.
ZK has more than 1,500,000 downloads since its first release in late 2005. ZK is deployed by a large number of Fortune Global 500 companies, including Barclays, Societe Generale, Swiss RE, eBay, Roche, Deutsche Bank, Sony, Sun Microsystems, Audi, EMC and Toyota, providing them with the ability to rapidly create rich Ajax enterprise level applications.
About Eclipse
Eclipse is an open source community, whose projects are focused on building an open development platform comprised of extensible frameworks, tools and runtimes for building, deploying and managing software across the lifecycle. The Eclipse Foundation is a not-for-profit, member supported corporation that hosts the Eclipse projects and helps cultivate both an open source community and an ecosystem of complementary products and services.
###