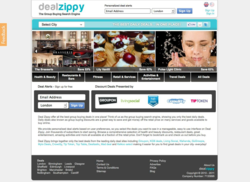 There were over 2000 London daily deals in June with an average discount of 66%.
London, UK (PRWEB UK) 20 July 2011
For fans of daily deals then there is no better place to live than London according to DealZippy.co.uk, the daily deal search engine that rounds up deals from all the top daily deal sites in the UK like Groupon, Living Social and KGB Deals.
According to data from DealZippy.co.uk there were over 2000 London daily deals in June with an average discount of 66% and the number of daily deals in July is set grow even bigger. There seems to be a frenzy of consumers storming daily deals sites and a new daily deal site launching almost every week in an effort to keep up with the demand. With the average saving of each daily deal in June being a huge £140 it is hardly a surprise that daily deals are so popular.
For those who are less familiar with daily deals, the types of offers you can expect to find are up to 90% off at top London restaurants, activity centres, hotels, gyms, events and some of the top spas in London as well as whole host of other exciting things to do in and around your city.
Further data from Deal Zippy reveals that in the last 3 months the number of daily deal sites serving up deals in London has almost doubled, resulting in over 20 sites like Groupon and Living Social, collectively saving millions of pounds for those who live or work in London. Deal Zippy reports that UK consumers managed to save over £16 million in June by using Daily Deals. Some of the most notable new entrants in the daily deal space are, Who Pays Full Price, Teacat, Tickles and Mad Deal.
Browsing Daily Deals
With hundreds of new daily deals being offered every day, customers are increasingly finding that catching deals which actually interest them can be a difficult task and Deal Zippy provides the perfect solution.
Deal Zippy brings all the best daily deals in the UK in to one place calling itself the daily deal search engine. Visitors can browse deals by type, popularity, price and more. It is even possible for daily deals fans to tell Deal Zippy the types of offer they like and it will find them and send a customised email each day. De-cluttering inboxs from daily deals with one simple email from Deal Zippy.
Deal Zippy collects data about the daily deals industry and analysis market trends including key metrics like quantity of daily deals published, how many sold, most popular deals and more.
You can Visit Deal Zippy at http://www.dealzippy.co.uk.
For more information, data, quotes or interview requests, please contact press(at)dealzippy(dot)co(dot)uk or 0208 123 4848.
# # #