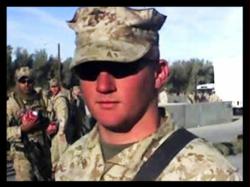 Three months into my second tour, the humvee I was in ran over an IED. On June 20, 2008, I lost both legs, broke both femurs, back, hip, pelvis and seven ribs.
Longwood, FL (PRWEB) July 21, 2011
Chopper Design Services, makers of the LegUp Landingear motorcycle stabilization system, has announced that it is donating a system to Justin Rokohl, a Marine who lost part of both of his legs in Afghanistan.
Looking for a way to say thanks to our war heroes, the company was actively seeking a 'Wounded Warrior' that could be rewarded with a system to allow that veteran to ride a motorcycle again. Recently, Justin Rokohl of Orange Grove, Texas, happened to contact the company to try to buy a LegUp system. Justin's need fit Chopper Designs desires perfectly!
Justin enlisted in the Marines in 2005, toured Iraq in '07, and was deployed to Afghanistan in '08. It was there that an IED took both his legs, and left him with many broken bones. Now back in Texas, this 24 year old works for an Oil Field company in his home town of Orange Grove, Texas.
As well as donating a system to allow Justin to ride his motorcycle, Chopper Design is looking for sponsors to help defray the other costs of modifications and transportation, that will get Justin on the road. If you would like to help, please email info(at)landingear(dot)com.
At this moment, Justin's bike is on a truck from Texas, to Orlando, to start the process of getting his bike modified for him. The company would like to thank Justin, and all the other veterans and active military people for the sacrifices they make for all of us! We as Americans owe our way of life to all of them!
###