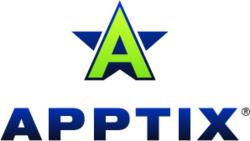 i3solutions is excited to partner with Apptix to enhance their customers' utilization of the SharePoint platform.
Herndon, VA (PRWEB) July 19, 2011
Apptix®, the premier provider of hosted business communication and collaboration services, today announced a strategic partnership with i3solutions to deliver world class Microsoft® SharePoint 2010 Development and Customization Services. The full suite of customizable SharePoint capabilities will include Portals and Collaboration, Systems Integration and Strategic Services, Business Intelligence, Training, Custom App Development, and Business Process Management.
Apptix's comprehensive SharePoint offering will completely change the way users think about SharePoint and its capabilities. The enhanced SharePoint solution includes fully customizable options for easy site editing, Office Ribbon user interface for faster training and adoption, and a rich offline experience with SharePoint Workspace. Customers may choose from three versions of SharePoint including Foundation, Standard, and Enterprise. Apptix plans include larger and more affordable storage options than other companies offering SharePoint. Users will benefit from the advantages of anywhere access including mobile-based interaction with people and content, read-write web access, and cross-browser support for maximized participation.
"Our goal is to provide our customers with the tools to work better together, faster and smarter," said David Ehrhardt, President & CEO of Apptix. "To do so, we partner with the best across all of our solution offerings. i3solutions has been working with SharePoint since the first BETA version in 1999 and has successfully delivered over 500 customized SharePoint solutions. We look forward to working with i3solutions to provide the rich user experience our customers are seeking. "
Michael Branson, Chief Operating Officer at i3solutions, said, "i3solutions is excited to partner with Apptix to enhance their customers' utilization of the SharePoint platform. Partnering with Apptix to offer cloud-based SharePoint solutions provides our clients greater flexibility in their designs, lower costs, and decreased risk. This partnership offers a huge win and advantage to both of our customers."
With over 3,000 sites and nearly a decade of SharePoint experience, Apptix has been a leader in hosted business collaboration solutions for businesses and organizations across the globe. Apptix's suite of SharePoint solutions provides customers with site customizations, lower cost plans with no infrastructure costs, a centralized control panel to manage all users, roles, and passwords, and quick deployments to get them up and running within minutes.
Apptix and i3solutions will be showcasing their hosted SharePoint solutions at the Microsoft SharePoint Conference on October 3rd – 6th in Anaheim, CA.
About Apptix
Apptix (OSE: APP) is the premier provider of hosted business communication services for businesses of all sizes – from SOHO to enterprise – with particular expertise serving legal, financial, and health care firms. The extensive Apptix product portfolio includes integrated solutions (e.g. Unified Communications) and point solutions including Exchange, VoIP, SharePoint, Web Conferencing, and Secure IM with Presence. Services are delivered over a highly reliable network leveraging best-in-class technology, housed in SAS 70-compliant data centers, and backed by U.S.-based 24/7 support. For more information, visit http://www.apptix.com.
About i3solutions
i3solutions Inc. is an IT consulting firm specializing in Intranets, Extranet, and Internet solutions; Business Intelligence and Online Reporting solutions; Systems Integration; and Proposal Management solutions. Founded in 1997, i3solutions is recognized as one of the top Microsoft SharePoint consulting firms in the Washington, DC Metro area as a result of our relentless pursuit of technical excellence, our hands-on experience gained from working with SharePoint since the very first product , and our awarding winning SharePoint implementation methodology. i3solutions has leveraged this unmatched set of skills and focus to successfully implement over 500 SharePoint Portal, Workflow, and Database solutions for our customers. For more information, please visit http://www.i3solutions.com.
###