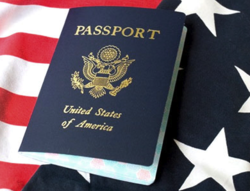 I received my wife's passport today, two days ahead of schedule. Thanks for your outstanding handling of our last minute need to rush the order.
- Tom Walker
Palm Beach Gardens, FK (PRWEB) July 20, 2011
Urgent business trips, unexpected vacations, and a host of emergencies can send one scrambling to get travel documents within days. U.S. citizens in need of a passport on short notice can now turn to US Passport Online, a full-service, government-approved expediting service for all sorts of passport applications.
Routine service usually takes four to six weeks and entails long hours of waiting. US Passport Online processes applications for new passports, child passports, renewals, additional pages, lost or damaged passports, name changes, and passport cards in as little as one day. The company is licensed by the U.S. Department of State, so clients are assured of safe, timely, and high-quality service at all times.
US Passport Online employs a team of agents with a thorough knowledge of U.S. passport regulations, regularly trained to keep them up to date with rule changes. These agents work as private consultants, personally guiding applicants throughout the process and ensuring that any issues that come up are quickly resolved.
All the required forms may be downloaded free of charge from the company website, and document checklists are available for all types of applications. Passport agents can also help users figure out which forms they need, what supporting documents to provide, and how much to pay.
On top of expediting fees, the Department of State charges a government fee; as of 2011, the fees are $170 for applicants over 16 and $140 for those aged 15 and blow. Passport expediting services cannot forward payments, so clients must pay by check or money order directly to the U.S. Department of State. An acceptance fee of $25 may also be charged for the verification of documents in some applications.
Applicants can place their order online to get the process started while completing the paperwork. The newly updated website offers advanced security features to ensure the safe transmission of personal data. Additional documents may be sent to the company's mailing addresses in Palm Beach Gardens, FL; Washington, DC; and Houston, TX.
For more information, clients can visit the company website (http://www.uspassportonline.com) or call toll-free 1 (866) 737-1344 to speak with a personal agent.
###