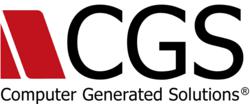 New York, NY (PRWEB) July 19, 2011
Computer Generated Solutions, Inc. (CGS), a global leader in IT solutions, software and services, was recently recognized by Everything Channel in its 2011 VAR500 list. The VAR500, which ranks the 500 highest Value-Added Resellers in North America, celebrates the IT industry's top technology integrators. Named to the prestigious VAR500 list, CGS placed at number 135 for 2011, jumping from 185 in 2010.
"We are very pleased to be ranked as one of the top Value-Added Resellers for VAR500 for the fifth consecutive year," said Phil Friedman, CGS president and CEO. "The fact that CGS increased in its standing in the ranking tells the industry that we are continually moving forward with profitable growth and sustainability of top-notch delivery and services to our customers and partners."
The VAR 500 List recognizes the leading technology integrators and solution provider organizations in North America based on gross worldwide revenue of hardware and software sales, as well as earnings from professional and managed IT services.
"The VAR500 represents the top performing solution providers in the IT community," said Kelley Damore, VP, editorial director, Everything Channel. "Vendors of all sizes rely heavily on the VAR500 list to find those solution providers best suited to sell their products. VAR500 honorees are considered trusted business advisors, integration experts, and invaluable partners. Even more importantly, they solve customers' biggest IT business problems through product integration, training, consulting and services."
The complete listing of the VAR500 was published in print and online on June 20, 2011.
About CGS
For more than twenty-seven years, CGS has enabled global enterprises, regional companies and government agencies to drive breakthrough performance through technology. Headquartered in New York City, CGS employs over 3,000 professionals in 20 offices in North America, Europe and Asia. With global delivery capabilities, expertise across leading platforms and deep experience in multiple industries, CGS has become the IT partner of choice for thousands of organizations worldwide. CGS delivers a wide array of proprietary and third-party business applications, technology and business services, and business process outsourcing solutions, including customer care, technical support and corporate learning & training. For more information please visit http://www.cgsinc.com.
About Everything Channel
Everything Channel is the premier provider of IT channel-focused events, media, research, consulting, and sales and marketing services. With over 30 years of experience and engagement, Everything Channel has the unmatched channel expertise to execute integrated solutions for technology executives managing partner recruitment, enablement and go-to-market strategy in order to accelerate technology sales. Everything Channel is a UBM company. To learn more about Everything Channel, visit us at http://www.everythingchannel.com .
###