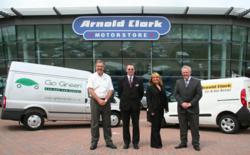 We are very excited by this national carhire association with Arnold Clark, it will enable us to extend our reach to a much larger audience and will ultimately be beneficial to all parties concerned
(PRWEB UK) 21 July 2011
Go Green Car & Van Rental and Arnold Clark Rental are pleased to announce an exciting new national carhire partnership. Arnold Clark will provide vehicle rentals to Go Green customers at all 32 branches located in every major Scottish town and city. Extended rental operations throughout Northern England and the Midlands will also benefit from this new national carhire partnership.
Go Green Car & Van Rental was formed in May 2007 and was the first environmentally friendly vehicle rental company in Europe.
The new national carhire partnership will provide a growth opportunity for both companies where the goal is to develop more retail and commercial business for customers looking for an environmentally friendly transport solution. To offset the carbon emissions produced during the rental Go Green invests 1% of its total sales into school environmental projects. A total of £15000 already invested so far.
Arnold Clark Rental is the largest car group in the UK in private ownership and has over 40 years experience in the industry. It has a multi-franchise fleet with the resources to offer drivers an extensive range of more than 15,000 vehicles.
"We are looking forward to developing this relationship which will help raise the awareness of environmental issues as it relates to the transport industry," said Jeff Clark, Arnold Clark's General Manager.
Go Green's Managing Director, David Blackhurst said, "the national carhire association between our companies will enable us to develop business over a wider area of the UK where customers who want to take up the Green Rental option can do so." He went on to say that "since the inception of the idea brought about by the publication of the Stern Report back in 2006 there has been a steady flow of enquiries from people wanting to be Green and do their little bit for the environment. We are very excited by this national carhire association with Arnold Clark, it will enable us to extend our reach to a much larger audience and will ultimately be beneficial to all parties concerned."
The British Vehicle Rental and Leasing Association (BVRLA) is the representative body for the UK that maintains and enforces standards across the vehicle hire industry. Both Go Green and Arnold Clark are proud members of this trade association and are dedicated to providing high quality service.
National carhire customers can see how Go Green and Arnold Clark Rental can offset their carbon footprint and make online bookings by visiting http://www.greenrental.co.uk
###