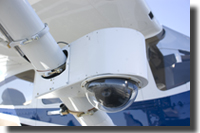 SkyFusion Pak meets the needs of mission-critical and technically-demanding applications.
San Carlos, CA (PRWEB) July 20, 2011
SkyIMD, Inc., the innovators in aerial imaging and intelligence solutions for law enforcement, will exhibit in Booth 701 at the ALEA Annual Conference and Exposition that opens today in New Orleans, LA.
SkyIMD will be exhibiting solutions to extend and enhance existing ISR systems, including:

Kestrel moving target identification software detects and highlights moving people or vehicles as small as 4 pixels from your video stream.
Reality Vision enables officers in the field or at HQ with a PC or smartphone to securely watch live video from your aircraft.
State-of-the-art microwave data link solutions to send IP video to the ground over long distances.
An excellent entry-level data link solution that supports our one keystroke image e-mailer using 3G/4G networks.
SkyIMD will also be exhibiting SkyFusion Pak, a turnkey solution for real-time aerial imaging and intelligence. SkyFusion Pak meets the needs of mission-critical and technically-demanding applications including border patrol, law enforcement, crisis management and mobilization, and search and rescue.
Key features of SkyFusion Pak include:

Installs in less than two hours.
STC FAA-approved.
Real-time image and video streaming via satellite or 3G network.
Automated analytics/reporting providing telemetry and geo-spatial data with 3D map overlays.
Small, lightweight and portable, SkyFusion Pak can be deployed quickly and installed easily in the field on multiple aerial platforms. The system can be configured with optional components, such as still and infrared cameras, to meet the needs of different applications.
SkyFusion Pak includes a self-contained pod with an application-specific video camera and motorized control that is ready to be mounted on wing strut or under belly. It also includes a flight control laptop computer that is customized and pre-configured with comprehensive management and control software.
About SkyIMD, Inc.
Headquartered at the San Carlos, CA Airport, (KSQL), SkyIMD designs aerial imaging solutions for commercial, government, military and general aviation markets. The company integrates best of breed technologies to design cost-effective, full-featured solutions for mission-critical and technically-demanding applications. Learn more at http://www.SkyIMD.com.
# # #