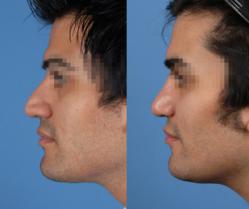 The main objective is subtle changes in the nose that look natural.
Dallas, TX (PRWEB) July 20, 2011
Dr. Rod Rohrich, president-elect of The Rhinoplasty Society, at the society's annual 2011 meeting in Boston, Massachusetts, acknowledged the American Society of Plastic Surgeons' identification of nose jobs as the cosmetic surgery procedure most requested by men. He encouraged colleagues to carefully analyze and plan such procedures, because men often are less attentive to their consult and explanation of their nasal deformity and therefore can be demanding post op as plastic surgery patients.
The American Society of Plastic Surgeons (ASPS) reported 64,000 male rhinoplasties in 2010, more than double the second-most-requested procedure, eyelid surgery (31,000). The other top cosmetic surgical procedures requested by men in 2010 were liposuction(24,000), male breast reduction (18,000), and hair transplantation (13,000).
Dr. Rohrich, Professor and Chairman of the Department of Plastic Surgery at UT Southwestern Medical Center in Dallas and an international expert in Rhinoplasty, observes that males are excellent patients when one understand that men often require more analysis and explanation about what type of rhinoplasty procedure will provide the best results. As a rhinoplasty surgeon, one need to take this into account when both consulting and performing rhinoplasty on male patients.
"When it comes to nose jobs, I've found it to be true what they say about men having selective hearing," comments Dr. Rohrich, "Ladies love hearing that, and men try to argue about it. In this case, however, it's no laughing matter. Male rhinoplasty patients need extra help understanding what they are getting into with a nose job and gaining a solid sense of why they want to do it. It's our job and responsibility as plastic surgeons to make sure we truly understand the patient's rhinoplasty goals and determine whether those goals are realistic."
Approach to Male Rhinoplasty
Dr. Rohrich believes plastic surgeons should use the following techniques and tools to educate male rhinoplasty patients and assure a positive surgical and aesthetic outcome:

Focus on aesthetic goals during the first rhinoplasty consultation, teaching the patient about the importance of facial harmony. Insist they become an active participant in the process.
Find out first and foremost what are the 3 main things that are bothering the patient about his nose and be very realistic about what you can and can not do to improve these concerns.
Require a second consultation to review the patient's desires for a nose job, develop a realistic operative plan and make sure the patient understands the procedure, including how long the nose could be swollen and numb. According to Dr. Rohrich, male rhinoplasty patients often have prolonged swelling more often than female patients especially if they have thicker skin.
Use a combination of photographs and computer imaging to help male rhinoplasty patients better visualize and understand the expected outcome of the surgery. However, emphasize that computer imaging is not a guarantee, but an approximation.
Stress the differences between male and female nose jobs. Men's noses are wider, straighter and less concave along the bridge than women. Male noses also have less-defined tips and don't turn up as much as women's. Men's skin usually is thicker than women's, which can limit the surgical options which can be reliably accomplished with rhinoplasty.
"Male patients need to understand the slightest difference in shape, if miscalculated, can result in undesired feminization of a man's nose or change a person's looks too much," said Dr. Rohrich. "The main objective is subtle changes in the nose that look natural. I always tell my rhinoplasty patients that this operative procedure Is the most challenging surgery in cosmetic surgery as it is a Surgery of Millimeters - if it is off, even by a little, it can make the difference between a great result and a disaster!"
Dr. Rohrich practices plastic surgery in Dallas, Texas at UT Southwestern Medical Center and at the Dallas Plastic Surgery Institute. He has trained hundreds of surgeons around the world in cosmetic surgery, including primary and secondary rhinoplasty. He is a co- author the classic text on Open Rhinoplasty – Dallas Rhinoplasty – Nasal surgery by the Master as well as the main author on the book entitled Secondary Rhinoplasty. He is an international expert in Rhinoplasty who lectures and operate before live audiences worldwide to demonstrate and teach the finesse of open rhinoplasty. Dr Rohrich is also the author of numerous peer reviewed articles on innovations in Rhinoplasty.
Plastic surgeons are welcome to attend the annual international Dallas Rhinoplasty Symposium to learn more about the concepts and advances in rhinoplasty and receive hands-on training. Contact Dr. Rohrich through his assistant Malacha O'Brien at (214) 821-9114 or by email at malacha.obrien(at)dpsi(dot)org.
About Rod J. Rohrich, M.D., F.A.C.S.
Dr. Rohrich holds the Betty and Warren Woodward Chair in Plastic and Reconstructive Surgery at UT Southwestern Medical Center in Dallas, Texas. He also holds the UT Southwestern Medical Center Crystal Charity Ball Distinguished Chair in Plastic Surgery. He is a graduate of the Baylor College of Medicine with high honors, with residencies at the University of Michigan Medical Center and fellowships at the Massachusetts General Hospital/ Harvard (hand/micro surgery) and Oxford University (pediatric plastic surgery). He has served as president of the American Society of Plastic Surgeons. He has been repeatedly selected by his peers as one of America's best doctors, and has twice received one of his profession's highest honors, recognizing his contributions to education in his field: the Plastic Surgery Educational Foundation Distinguished Service Award. Dr. Rohrich participates in and has led numerous associations and councils for the advancement of plastic and reconstructive surgery. He is a native of North Dakota.
About The Rhinoplasty Society
The Rhinoplasty Society is a non-profit organization dedicated to the open exchange of innovative ideas and techniques concerning rhinoplastic surgery. The society consists of surgeons throughout the world who specialize in rhinoplasty. The goal of the Society is education, allowing surgeons who have a strong clinical, teaching and research interest in rhinoplasty to exchange and develop ideas and to work out problems in a common forum of mutual respect and collegiality.
###