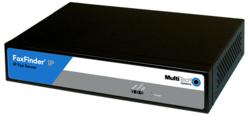 Resellers can include the FaxFinder IP with each ShoreTel system they quote with the confidence that results from our membership in the ShoreTel Innovation Network.
- David Tincher
Minneapolis, MN (PRWEB) July 19, 2011
Multi-Tech Systems, a world leader in Unified Communications and machine-to-machine (M2M) solutions, announces today that its FaxFinder® IP fax server is compliant with the ShoreTel IP-based business communication solutions. This means the FaxFinder IP has passed validation testing for seamless interoperability with the ShoreTel Unified Communications solution.
The FaxFinder® IP fax server combines quality hardware designed to integrate with an IP-based work environment and industry-leading FaxFinder fax routing software to reduce costs while enhancing productivity by sending and receiving faxes using email and network resources. When connected to the ShoreTel Voice Switch, the FaxFinder functions as a network fax server with two-way fax service. Users experience the ease of one-click faxing direct from their desktop, and incoming faxes are routed through the FaxFinder and converted into graphic files for direct delivery to the users' inboxes. Because faxes are received in the form of an electronic message, users can access faxes just as they would a typical email, including VPN or smartphone – making this an ideal solution for remote workforces or organizations with multiple locations.
"Expanding the functionality of the existing FaxFinder product line to include an IP model gives resellers the opportunity to reach out to existing customers who are looking to reduce the costs of their current fax solution. Resellers can also begin including the FaxFinder IP with each ShoreTel system they quote with the confidence that results from our membership in the ShoreTel Innovation Network," said David Tincher, senior product manager, Multi-Tech Systems.
The joint solution is perfect for small to mid-sized companies and for organizations that need a secure fax solution to comply with business or industry regulations, such as the Health Insurance Portability and Accountability Act (HIPAA), Sarbanes-Oxley (SOX) and Gramm-Leach-Bliley Act (GLBA).
ShoreTel authorized resellers are invited to receive more information, including the ShoreTel application note, FaxFinder IP technical specifications, product and technical webinar schedules, demonstration unit guidelines and other reseller resources by visiting the product page of the company website at http://www.multitech.com/faxfinder.
About Multi-Tech Systems
Multi-Tech® Systems is a global manufacturer of a comprehensive line of external and embedded modems and Unified Communications products that connect data over 2G and 3G cellular networks from anywhere in the world. As a leader in the industry for 40 years, Multi-Tech's reputation for reliability and innovative design is evident with 80+ patents, 20+ million devices being used by thousands of customers worldwide and certifications from more than 30 carriers and over 80 countries. Multi-Tech is certified by the WBENC as a Women's Business Enterprise and by C-TPAT (Customs–Trade Partnership Against Terrorism). Visit http://www.multitech.com. Follow Multi-Tech on Twitter: twitter.com/MultiTechSys/
###