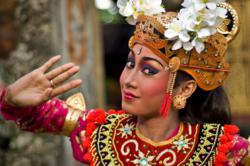 Helena, AL (PRWEB) July 20, 2011
From the thunderous heights of remote Kaieteur Falls to the lush islands of Indonesia, fascinating history and archaeology of Turkey, and bird-rich jungles of Trinidad, International Expeditions' 2012 line up is packed with engaging new journeys and exciting off-the-beaten-path adventures.
The world leader in engaging and authentic nature travel, International Expeditions' mission "to stimulate an interest in, develop an understanding of, and create an appreciation for the wonders of our Earth" is fulfilled on each of these explorations. IE specializes in journeys for curious and adventurous travelers, delving deep into nature, history and culture. Journeys are led by experienced, knowledgeable and friendly expedition leaders and naturalists. Long recognized as a pioneer of environmentally and culturally responsible travel, International Expeditions is committed to preserving natural habitats and improving the welfare of the communities it visits.
Guyana & Trinidad
Intrepid travelers searching for "undiscovered" wildlife frontiers are sure to enjoy the 10-day Guyana & Trinidad expedition which combines pristine nature with a rustic adventure in one of Earth's last untouched tropical rainforests — the Guiana Shield. While exploring on naturalist-guided canopy walkway excursions, hikes and game drives, travelers can spot as many as 800 bird species from South America and the Caribbean, including the Guianan cock-of-the-rock. Private charter flights whisk travelers to remote Kaieteur Falls, where nature enthusiasts can search out tank bromeliads and tiny golden frogs. Other highlights of the journey include a three-night stay at the renowned Asa Wright Nature Center — one of the world's top birding destinations — where guests thrill at the spectacle of thousands of scarlet ibises congregating in the mangroves of Caroni Swamp. Accompanying this journey is a local naturalist Wally Prince, an avid birder whose expertise extends beyond scientific research. Wally has also worked with documentary teams for National Geographic magazine and the Discovery Channel.
Prices for the small-group Guyana & Trinidad expedition start at $5,598 per person for departures January 27, April 20 and October 5, 2012. Prices include accommodations such as the Iwokrama River Lodge, most meals, ground transportation, bottled water, entrance fees, transfers, and tips to porters, local guides, drivers and to waiters for included meals.
Bali to Komodo
For those who'd like to delve into the wildlife and culture of Indonesia's exotic isles, IE is introducing an expedition cruise encompassing Bali and the Komodo National Park. The journey offers travelers an exclusive small-ship experience aboard a traditional Indonesian Pinisi sailing ship, the 26-guest Sea Safari VII along with a four-day exploration of fascinating Ubud, Bali. Daily snorkeling, hikes, guided tours of sacred temples and local village visits round out this 15-day exploration of eight distinct islands. Ensuring that guests enjoy a journey that is enriching, educational and worry-free will be seasoned Expedition Leader Jorge Salas, a guest favorite, and Indonesian naturalist Oswald Huma.
The Bali to Komodo expedition has two departures, with per person rates starting at $5,898 for the May 27 and June 10, 2012 journeys. Prices include accommodations, most meals, ground transportation, entrance fees, transfers, bottled water, and tips to porters, drivers, local guides and to waiters for included meals.
Turkey & Greece
A special treat for history and archaeology enthusiasts, International Expeditions' new Turkey & Greece journey spans centuries of history and culture along the ancient Turquoise Coast and Greek Isles. IE's 12-day journey offers an immersive survey of ancient history, from Bronze Age shipwrecks at Bodrum's Underwater Archaeological Museum to unexcavated Lycian sites in remote Lydae. Highlighting this comprehensive journey are archaeologist-guided explorations of three sites which were part of the Seven Wonders of the Ancient World — the Colossus of Rhodes, Mausoleum of Halicarnassus and Temple of Athena; swimming and relaxing off secluded, scenic coves and beaches; rare time at leisure to enjoy tasty food at a local taverna or explore independently; and a full-day in the once-flourishing town of Knidos, where the Mediterranean meets the Aegean. IE Co-Founder and Executive Director Steve Cox will be joining both 2012 departures aboard the spacious MY Halis Temel.
Prices for the two Turkey & Greece expeditions start at $4,798 per person for departures September 6 and September 13, 2012. Prices include accommodations, most meals, ground transportation, bottled water, entrance fees, transfers, and tips to porters, local guides, drivers and to waiters for included meals.
Additional Frontiers
Also on the 2012 roster is a 13-day voyage venturing along the remote coasts of West Africa aboard the 34-guest yacht Callisto. The "Into Africa" program offers an exclusive look at regions of Africa that few travelers have ever experienced, including the Bijagós Archipelago, where guests can observe rare saltwater hippos in this chain of islands where nature is considered holy by the ancient, animist culture.
Wildlife and nature enthusiasts will also want to explore the inspirational island of Borneo. Two journeys in 2012 will take in Borneo's rich biodiversity found in some of Earth's oldest rainforests. From hikes to see the giant rafflesia flower or nights spotting nesting sea turtles to mornings observing orangutans or proboscis monkeys, IE's 20-day Borneo adventure tour is redefining "wild island fun."
Celebrating 31 years of nature travel, International Expeditions specializes in small-group journeys to Earth's most exhilarating destinations. IE has been named to Travel + Leisure's list of "World's Best" tour operators & safari outfitters for seven years and to National Geographic ADVENTURE magazine's list of "Best Adventure Travel Companies on Earth."
For more information or a brochure on 2012 journeys, call International Expeditions at 1-800-234-9620, e-mail nature(at)ietravel(dot)com, or visit http://www.IEtravel.com.
# # #