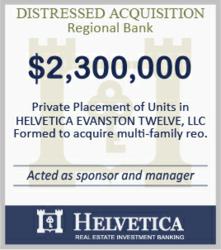 Our firms reputation and local presence helped us win the bid.
San Diego, CA (PRWEB) July 20, 2011
The Helvetica Group announced today that it has acquired a bank-owned portfolio of lake-front, multi-family properties in Evanston, Illinois. The Company closed the transaction with all cash in less than two weeks. Helvetica was able to conduct extensive due diligence and quickly close by the end of the quarter. Through several proprietary real estate opportunity funds, Helvetica plans to deploy another $100 million this year to acquire bank-foreclosed, residential income properties.
The portfolio includes 5 contiguous parcels improved with three multi-family and two single family properties situated on a private beach overlooking Lake Michigan. The City of Evanston offers close proximity to Northwestern University, downtown Chicago and Wrigleys Field. The properties are currently leased and generating income.
"Its a great community and this is a one-of-a-kind portfolio that took decades to assemble," said Chad Mestler, president and CEO. "We believe that the market has not seen 1/3 of the amount of distressed inventory that needs to be digested before the economy can get back on track. We expect that government foreclosure prevention programs and regulatory hurdles will continue to be an obstacle to the flow of distressed properties coming to market. While the market continues to unravel from massive leveraging, these types of bank-owned bulk sales will be one liquidation alternative that will remain fast and efficient allowing banks to add much needed cash to their balance sheets and enable these institutions to focus on their core business. Our firms reputation and local presence helped us win the bid."
About Helvetica
The Helvetica Group (http://www.helveticagroup.com) is a real estate investment bank providing innovative private lending, distressed asset acquisitions, brokerage, investment management and family office services. Since 2008, Helvetica has closed several dozen bank reo and bulk transactions including over 400 properties and from national and regional banks and former subprime lenders. Helvetica has facilitated such transactions as a principal, as an equity partner and has provided financing to these types of deals.
###