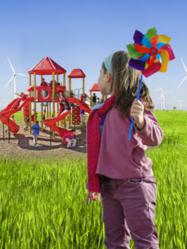 To us, it's simply doing the right thing.
Fond du Lac, WI (PRWEB) July 21, 2011
In conjunction with the Environmental Protection Agency's (EPA) Green Power Partnership, BCI Burke has boosted the commitment to acquire energy from wind and other renewable sources to offset approximately 20% of electrical usage, up from the previous 12%. Burke purchases wind energy through Alliant Energy's Second Nature Program™ and is the only commercial playground manufacturer to participate in the EPA partnership.
"We constantly look for ways to better use resources and ensure a more sustainable world," said Mark Sondergard, BCI Burke President/COO. "We're in the business of improving kid's lives, and one of the best ways we can do this is by ensuring an environmentally safe and economically robust future."
The result of Burke's commitment has an annual environmental impact of reducing the greenhouse gas emissions from 14.3 vehicles or 9 homes a year. It also prevents the equivalent emissions of 8,176 gallons of gasoline from being consumed, which is equivalent to planting 15.5 acres of pine or fir forests.
Burke strives to make a difference and believes their example will play an important role in stimulating an even greater commitment for employees and customers to make their own contribution to a sustainable future.
"Along with the EPA program, we focus on straightforward practices, like using efficient lighting to reduce total energy consumption and increasing our use of recycled materials. These types of initiatives have earned us the ISO 14001 Certification. To us, it's simply doing the right thing," Sondergard said.
BCI Burke, with headquarters in Fond du Lac, Wisconsin, is a premier manufacturer of commercial playground, park, and recreation equipment and an avid supporter of playground safety. More information is available at http://www.bciburke.com.
About EPA's Green Power Partnership
The Green Power Partnership is a voluntary program that encourages organizations to buy green power as a way to reduce the environmental impacts associated with purchased electricity use. The Partnership currently has more than 1,000 Partner organizations voluntarily purchasing billions of kilowatt-hours of green power annually. Partners include a wide variety of leading organizations such as Fortune 500 companies, small and medium sized businesses, local, state, and federal governments, and colleges and universities. For additional information, please visit http://www.epa.gov/greenpower.
# # #