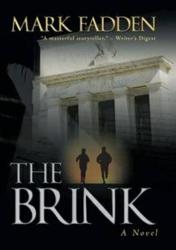 "Here we are, in the same situation that should only happen in a conspiracy novel."
Dallas, TX (PRWEB) July 20, 2011
With the showdown in Washington over the debt crisis, and the enormity of the consequences if action isn't taken, it seems that someone should have seen it coming. Well, someone did. And it wasn't an economist or a politician. It was a fiction writer who published a novel about what could happen in terms of a global financial meltdown if the US debt ceiling isn't raised on Aug 2. Funny thing is that the novel was published last year. And the writer began forming his story more than five years ago.
"When I first began researching the financial aspect of the plot for The Brink, I contacted my old economics professor," said Texas author Mark Fadden of his latest suspense thriller. "We talked cause and effect - if this happens, then what would happen? Okay, if that happens, then would this happen? At the end of my time with her, she said, "you know, if you had paid this much attention to these subjects back in school, you'd have been much better than a C student."
The Brink tells the story of fugitive Texas Ranger Danny Cavanaugh, who's hiding out in northern Mexico for killing a dirty FBI agent. When he comes across a woman running for her life, he decides to help her, only to get sucked into a global financial conspiracy. Thus, the chase begins as they are hunted by ruthless assassins from Mexico to Washington, D.C. where they must alert the president with what they know.
While the debt crisis in reality could be blamed on Congress, the financial conspiracy in Fadden's latest novel is being perpetrated by a ruthless secret society that wants to bring the international financial system, and consequently the world, to its knees. This group is based upon an organization known as the Bilderberg Group, a clandestine organization that has met in secret, until recent years, since 1954. "The Bilderberg Group is an organization made up of royalty, politicians, international financiers, and media tycoons that supposedly runs the world behind closed doors. When I began researching them, I knew they were a perfect fit for the book." In reality, it is only due to the dogged actions of alternative media journalists such as Daniel Estulin and Alex Jones that the Bilderbergers have been forced from the shadows and show the world they do, in fact, exist. They even have an official website explaining who they are and their meeting agendas. While they admit that they do meet to openly discuss topics that affect the world on a global scale, they are still a favorite subject among conspiracy theorists who aren't convinced that their operations have fully emerged from the shadows.
While Fadden keeps tight lipped as to the intricacies of the book's plot, he does mention that a large part of it revolves around yet another piece of the book that's come true, the U.S. debt crisis. "Here we are at the eleventh hour of what could be the single biggest moment in America's financial destiny. When I began doing my research for the book back in 2005, I knew the debt crisis could get bad, but I never thought our leaders would really steer our country to the brink of financial collapse. But here we are, in the same situation that should only happen in a conspiracy novel."
Fadden, who's been called "the next Dan Brown," has garnered both awards for The Brink, as well as accolades from some big names in the book business. A Writer's Digest reviewer called him a, "masterful storyteller," and bestselling author Sandra Brown said, "The Brink was a hell of a read."
The Brink is available in eBook format for $2.99 at Barnesandnoble.com and at Amazon.com. Signed trade paperback copies are also available on Fadden's online store, http://shop.markfadden.com. Get more information about Fadden, including his next books at markfadden.com.
###